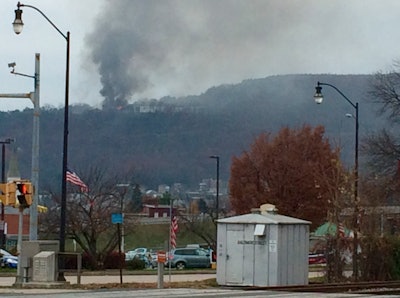 Last week, IMPO's top five stories included reactions to the rejection of a massive oil pipeline, a large floating wind farm off the coast of Scotland and additional details on the big game-changing beer merger. 
Check out last week's biggest stories: 
Teenager Accused Of Setting Manufacturing Plant Alight: An 18-year-old man has been charged with arson after a vacant Cumberland manufacturing plant was destroyed. The Maryland State Fire Marshal's Office said Thursday that Martin E. Witt Jr. of Cumberland was arrested in connection with the Wednesday afternoon fire that engulfed the 45,000-square-foot Artmor Plastics building. It took firefighters nearly seven hours to put out the flames. Authorities say Witt confessed to igniting multiple fires with a lighter while trespassing inside the closed manufacturing plant. Investigators say Witt was accompanied by four 17-year-old boys. Authorities are interviewing the boys to determine whether they were involved with lighting the fires. Witt has been charged with second-degree arson, in addition to burning and burglary charges. It is unclear whether he has an attorney to reach for comment on the charges.
No Driver, No Ticket: Police Stop Google Self-Driving Car: A California police officer pulled over a self-driving car specially designed by Google that was being tested on local roads Thursday, the Mountain View Police Department said in a statement. He noticed the car going 24 mph in a 35 mph zone and realized it was a Google Autonomous Vehicle. The officer stopped the car and contacted the person behind the wheel to say the vehicle was impeding traffic, but he didn't give out a citation. The Google project responded in a blog post, saying the cars have never received a ticket and adding, "Driving too slowly? Bet humans don't get pulled over for that too often."
Keystone XL Rejection Elicits A Flood Of Responses: President Barack Obama announced the rejection of the proposed Keystone XL oil pipeline project. The request from TransCanada had been in review for seven years, stirring up a political controversy. Environmentalists applauded Obama's decision to reject the project, claiming it would have been harmful to the environment. Republicans and those in the oil industry, however, argued the project would have created numerous jobs and largely benefit the U.S. economy. "This pipeline would neither be a silver bullet for the economy, as was promised by some, nor the express lane to climate disaster proclaimed by others," Obama said in a press conference Friday. "The pipeline would not make a meaningful long-term contribution to our economy." Immediately following the announcement was a flood of responses and reactions from politicians to environmental organizations to workers in the oil industry, among many others. Those in support of the pipeline will likely try to find an alternative, such as challenging Obama's decision in court or Congress, controlled by Republicans, trying to override the president. Furthermore, the issue could resurface in 2017 if a Republican were to take the White House and invite the discussion with TransCanada once more.
Manufacturing Minute: The World's Largest Floating Wind Farm: Katie Mohr, associate editor of Manufacturing.net, takes a look at Statoil's approved proposal to build five turbines off the coast of Scotland. The turbines, rather than being directly anchored to the sea floor, are connected to each other with cables and anchored with a three-point mooring system. The video illustrates a preview of what the wind farm will look like. 
Beer Merger Will Not Bring Budweiser, Miller Under Same Roof: The world's two biggest beer makers will join forces to create a company that produces almost a third of the world's beer. But in the U.S., the deal will not bring arch rivals Budweiser and Miller under the same roof. Budweiser maker AB InBev announced Wednesday a final agreement to buy SABMiller for 71 billion pounds ($107 billion). To ease concerns the brewing behemoth might get a stranglehold of the U.S. market, SABMiller will sell its 58 percent stake in a venture with fellow brewer Molson Coors for $12 billion. The deal includes rights to the Miller brand name and gives Molson Coors full control of operations. The combined company — which as yet does not have a name — will also need to address regulatory issues in China, where SABMiller has a leading position with a 49 percent stake in the Chinese beer Snow. China is the focus of intense interest, as it already drinks a quarter of the world's beer.
Free Whitepaper: The Top Manufacturing Technology Trends for 2015 and Beyond