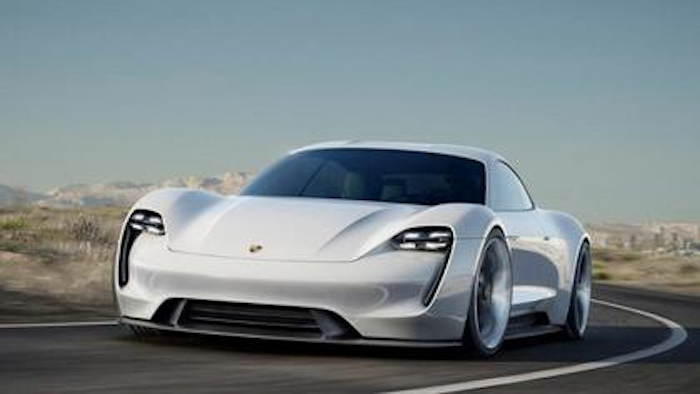 Porsche has blasted onto the electric car scene with the Mission E, its first all-electric vehicle.
The concept depicts a four-seat sports car, and under the hood is a 600 hp (440kW) system with over 500 km driving range.
Charging is fast too: it takes 15 minutes to reach 80 percent charge at a conventional 400-volt charging station. The high-tech console includes eye-tracking, gesture control, and holograms.
The two permanent magnet synchronous motors can propel the Mission E from 0 to 100 km/h in under 3.5 seconds. That is similar drive technology to that used in Porsche's racing cars, including the 919 hybrid that won this year's Le Mans. Porsche Torque Vectoring automatically distributes torque to all four wheels, improving the steering.
Porsche wants to make a name for itself in terms of range, that bugaboo of electric car owners. The 800-volt technology can take the car 500km on one charge. Owners can also opt in to conductive charging, where the car will charge just by parking over a coil pad embedded in the floor of the garage.
The battery runs the length of the car from the front to rear axle, distributing its weight to both axles uniformly. The body is made from aluminum, steel, and carbon fiber reinforced polymer.
Inside the car, the displays glow with OLED lights. A camera in the dash enables eye-tracking. With a push of the button on a steering wheel, the driver can activate the menu for the instrument on which they're focused. The driver's position and height also change the position of the instruments, enabling a custom look and making sure no relevant information, such as the speed, is ever blocked by the steering wheel.
The holographic display sits between the two levels of dashboard instruments, and contains apps which can be used to control functions like media or climate control without having to touch the console.
Entry can be gained using a digital key, shared with the driver or authorized friends and family through the Porsche Car Connect app.
Route and speed can also be shared with friends over social media, as can a more ephemeral factor – "fun." A camera in the rear-view mirror recognizes the driver's mood, and can display an emoticon on the dash. The example given talked about a driver having fun on their cruise along the road, but would snarled traffic create a little frown?
With a sporty electric model, Porsche is effectively placing itself where Tesla did at square one, making its own Roadster. The press release talks about "emotional sportiness," and the sculpting of the classic Porsche curves.  Mission E's speed, range and conductive charging could give Tesla a run for its money, even as Porsche's maiden voyage.