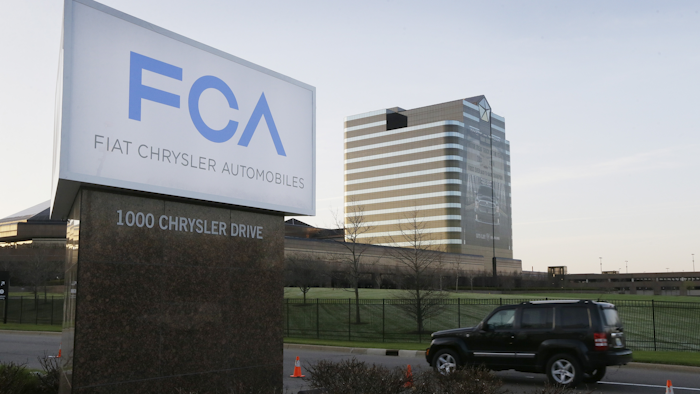 DETROIT (AP) — Many of the negotiators in contract talks between the United Auto Workers and Fiat Chrysler took a break Tuesday morning after bargaining through the night.
The union's contract with the Italian-American automaker officially expired at 11:59 p.m. EDT Monday, but both sides agreed to extend it on an hour-by-hour basis while talks continued toward a new four-year agreement.
Fiat Chrysler was picked as the lead company in the talks this year, making it the focus of bargaining and a potential strike target if talks hit a snag. Also Monday, General Motors and Ford extended their contracts with the UAW indefinitely as bargaining continues.
At daybreak Tuesday, only a few cars were in the parking lot of the Fiat Chrysler-UAW training center building near downtown Detroit where the talks are taking place. Full talks were expected to resume later in the morning.
FCA CEO Sergio Marchionne canceled plans to attend the Frankfurt International Motor Show in Germany Tuesday and instead stayed in the U.S., a strong sign that a deal was near.
The UAW announced Sunday that it had picked Fiat Chrysler as its target company, meaning a deal with FCA could set a general pattern for contracts at GM and Ford. FCA could also be hit with a strike if negotiations stall, although workers at several FCA factories said Monday they had not been told of any strike plans.
All three companies officially kicked off bargaining for new four-year contracts in July. The contracts cover around 140,000 U.S. factory workers.
Kristin Dziczek, director of the industry and labor group at the Michigan-based Center for Automotive Research, said union members can expect some financial gains in this contract, since all three companies are healthy and profitable. But they have to be careful, since automakers can move their operations to lower-cost countries such as Mexico if their U.S. labor costs get too high.
The union wants hourly pay raises for longtime workers who haven't had one in a decade. It also wants to close the wage gap for entry-level workers, who start at about half the $29 hourly wage of veteran employees. The wage gap benefits FCA the most, since 45 percent of its hourly workers make entry-level wages. Only around 20 percent of workers at Ford and GM make the lower wage.
Marchionne has been outspoken about wanting to eliminate the wage gap. But he has indicated the top wages should come down in favor of fatter profit-sharing checks. All three companies also want to stick with profit-sharing instead of increasing hourly labor costs. Over the past four years, FCA workers have gotten annual profit-sharing checks totaling $9,000 per worker.
UAW President Dennis Williams and Marchionne, who greeted each other with a hug as the negotiations began in July, have both said they would consider it a failure if they can't reach an agreement and workers strike. Workers at FCA — known as Chrysler before its 2009 merger with Fiat — went on a seven-hour strike during contract negotiations in 2007 but were prohibited from striking in 2011 under terms of a government-funded bankruptcy.