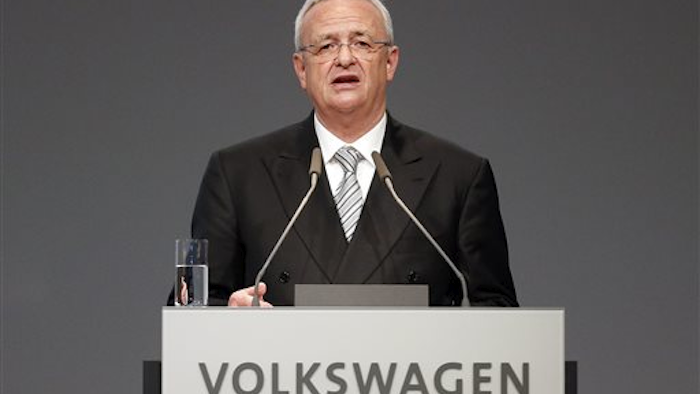 Volkswagen's CEO resigned Wednesday amid the crisis over the company cheating on U.S. emissions tests.
Martin Winterkorn said that although he was "not aware of any wrongdoing on (his) part," he accepted responsibility for the scandal and said that the company needs "a fresh start."
"I am shocked by the events of the past few days," Winterkorn said in a statement. "Above all, I am stunned that misconduct on such a scale was possible in the Volkswagen Group."
The Environmental Protection Agency last week announced that VW installed software to manipulate emissions levels during official tests on nearly 500,000 diesel Audi and Volkswagen vehicles.
Federal officials ordered the company to pay to fix those cars and VW stopped selling some current models at U.S. dealerships.
The violations could result in up to $18 billion in fines, but experts said that the actual total will likely be much less. The company indicated that it was setting aside $7.3 billion to address the scandal.
In the wake of the EPA's announcement, the company's stock price plummeted and authorities across the globe vowed to conduct additional probes into VW emissions levels. Criminal charges could be forthcoming.
The damage to the Volkswagen brand, meanwhile, could take years to restore, according to analysts.
VW's board is expected to appoint a new CEO on Friday.