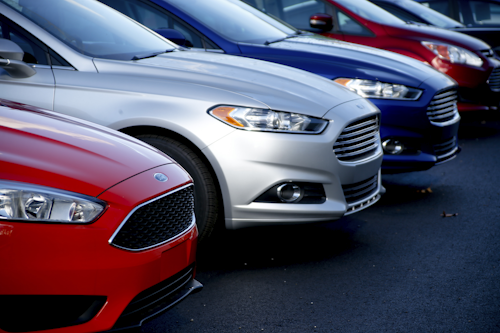 Many large automakers this week reported that their U.S. sales slowed in May, which officials attributed to two fewer selling days compared to May of 2015.
General Motors and Ford each reported lower sales last month, as did overseas counterparts Toyota, Honda and Nissan.
GM sales dropped by 18 percent due to a 13 percent decline in retail sales and planned reductions in deliveries to rental agencies. The company said that production delays — a result of massive earthquakes in Japan — also curbed inventories at a time when new vehicles were entering the market.
"Current dealer inventories for launch products are about half of what we'd like for launch products, but availability is improving, which sets us up well for the second-half of the year," GM sales operations vice president Kurt McNeil said in a statement.
Ford sales, meanwhile, fell by 6 percent last month despite a strong performance by its F-Series pickups. Toyota's sales declined by nearly 10 percent, while Honda's sales fell by nearly 5 percent. Nissan reported a more modest decline of just 1 percent.
Fiat Chrysler, however, reported its best May sales since 2005 after a 1 percent increase last month. Jeep brand sales increased by 14 percent and set a monthly record, but Ram trucks were stagnant and the Dodge and Chrysler brands declined.
Those six companies comprised more than 75 percent of the U.S. auto market in April, according to numbers from The Wall Street Journal.
Volkswagen, meanwhile, sold 17 percent fewer vehicles last month. Sales for the first five months of the year were off by 13 percent compared to the same span last year as the German automaker continued to deal with the fallout of its diesel emissions scandal.