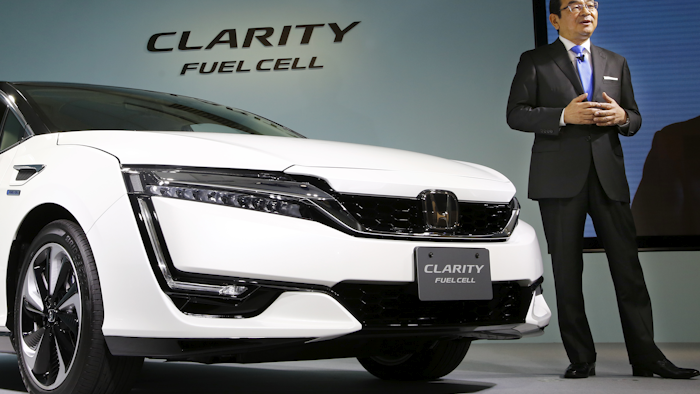 Honda this week started limited sales of its new fuel cell sedan, which officials said offered unprecedented range for a zero-emission vehicle.
The Clarity Fuel Cell offers a cruising range of more than 460 miles — 30 percent higher than previous fuel cell vehicles and, the company said, the best among all zero-emission vehicles worldwide.
Fuel cells allow cars to be powered by hydrogen gas, which combines with oxygen in the air and emits only water vapor as exhaust.
Honda said that the car is powerful and quiet, and that its tank can be refilled in about three minutes. An external device could also convert the car into a makeshift generator during power outages or disasters.
The new Clarity's smaller fuel cell powertrain, meanwhile, fits completely under the hood and allows space for five passengers — a first for a fuel cell vehicle.
The automaker initially aims to sell about 200 cars in its first year, exclusively in its native Japan through leases to government agencies and partner businesses. Sales in the U.S. and Europe, however, are slated to begin later this year.
The Clarity will sell for $67,000 in Japan, but subsidies for environmentally friendly vehicles should reduce the monthly lease rate. When the car goes on sale in California, Honda officials expect leases to be less than $500 per month.
Despite their environmental benefits, fuel cell vehicles have struggled to gain popularity among car buyers due to a lack of hydrogen fueling stations.
Japan, however, placed an emphasis on building a "hydrogen society" in recent years and plans to install hundreds of hydrogen pumps along its highways.