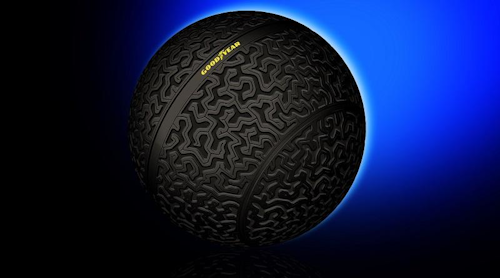 This completely spherical tire could give autonomous cars increased maneuverability and safety,Goodyear said at the Geneva International Motor Show on March 1. The Eagle-360 can move in all possible directions, giving it a smooth movement that can adapt to sudden stops or road debris.
Because of its shape, the Eagle-360 connects to the car in a unique way too. A magnetic field similar to that used in a maglev train is used to secure the tire to the car. The tread is inspired by the interlocking patterns found in brain coral, which help the tire grip the road and act as a natural sponge.
Goodyear sees this as an adaptation to possible changes to the way people park as autonomous cars become more common. Cars can slot themselves into smaller parking spaces and turn on a dime, so 360-degree tires could make for faster, most closely-fitted parking and enable public parking areas to increase their capacity by fitting cars in tighter.
"Though this is purely a concept tire, it showcases some of Goodyear's best innovative thinking and how the needs of future drivers can be addressed," said Goodyear's Europe, Middle East, and Africa Division President Jean-Claude Kihn in a press release.
Further, the concept tire is directed at the young drivers who will become the consumers of the future and "is likely to drive or ride in autonomous cars," Kihn said.
Tires like this will "[reduce] the driver interaction and intervention in self-driving vehicles," said Joseph Zekoski, senior vice president and chief technical officer at Goodyear.
Navigant research predicted that 85 million autonomous-capable vehicles would be sold each year by 2035.