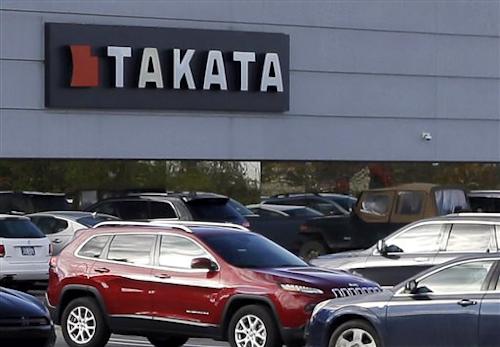 Takata Corp. could ask for help from top Japanese automakers as the embattled airbag manufacturer faces billions in likely recall costs.
Kyodo News International, citing sources familiar with the matter, reported that Takata officials and automakers such as Toyota and Honda are expected to meet soon regarding airbag recall plans and replacement parts. A decision on recall costs is expected by June.
Millions of cars equipped with Takata airbags were recalled following the discovery that their front airbag inflators could explode with too much force and send metal fragments into the vehicle interiors.
At least nine deaths — one in Malaysia and eight in the U.S. — were attributed to the problem, with the latest confirmed by Honda earlier this month.
The National Highway Traffic Safety Administration levied a $70 million fine against Takata in November. Ultimately, a Japanese government source told Kyodo News that Takata could face $3.4 billion in costs.
Automakers could enable Takata to repay repair costs incrementally or allow the company to maintain its current parts prices.
Some companies, however, could choose to withhold assistance from Takata amid criticism about its transparency and the response to the scandal.
Honda — which was Takata's largest customer — dropped its airbags in November and alleged that Takata manipulated and misrepresented testing data. Honda vehicles were involved in each of the nine deaths linked to the airbag defect.