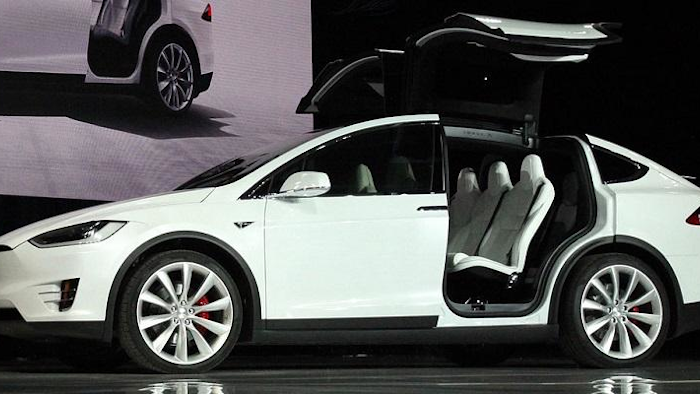 Tesla Motors doesn't want to pay a German auto parts manufacturer for its work developing doors for the Model X because it feels the company failed to deliver upon its contractual obligations.
Filed in the U.S. District Court of Northern California, Tesla's lawsuit aims to thwart Hoerbiger Automotive Comfort Systems' attempt to collect further payments from the Elon Musk-led electric vehicle manufacturer. Not only is Tesla hoping the court agrees it didn't breach the contract, but it also hopes to escape the court case without having to cover attorney fees, or anything in addition to the $3 million in parts and engineering payments it previously made.
According to a Wall Street Journal report, Tesla said it paid Hoerbiger to create a vertically rising door for the Model X, known as the 'falcon wing,' but the company failed to produce a satisfactory prototype between February 2014 and May 2015. The lawsuit claims Hoerbiger's prototype leaked oil, sagged, and produced excessive heat—each an issue that eventually caused the door to stop functioning.
"We were forced to file this lawsuit after Hoerbiger decided to ignore their contracts with us and instead demanded a large sum of money to which they are not entitled," a Tesla spokeswoman said in an email to the Wall Street Journal. "We will vigorously prosecute this case."
Due to these purported headaches, Tesla dropped its connection with Hoerbiger, and opted to hire a different supplier.
"Tesla incurred millions of dollars in damages, including, but not limited to costs of re-tooling the entire vehicle in order to support a different engineering solution," the lawsuit said. In addition, Tesla had to pay the new supplier a premium to rush out a workable solution.
Hoerbiger couldn't be reached when the Wall Street Journal sought a response Tuesday.
The Model X was first slated to be delivered in late 2013, but that goal was pushed back several times, first to the beginning of 2015, then to the end of that year. (Product Design and Development previously reportedthat the 2013 launch was pushed back due to the success of the Model S.)
"Model X deliveries are in line with the very early stages of our Model X production ramp as we prioritize quality above all else," the spokeswoman said. "That ramp has been increasing exponentially, with the daily production rate in the last week of the year tracking to production of 238 Model X vehicles per week."
The current estimated delivery of a newly reserved Model X is the second half of 2016, according the Tesla's website.