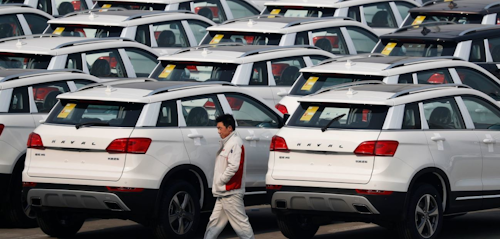 China's auto sales growth fell below 1 percent in October as demand for sedans contracted, an industry group said Wednesday.
Sales rose 0.4 percent over a year ago to 2.3 million units, down from September's 4.1 percent growth, according to the China Association of Automobile Manufacturers. Total vehicle sales, including trucks and buses, rose 2 percent to 2.7 million vehicles.
Chinese auto sales have struggled this year after a temporary tax cut boosted last year's growth to 15 percent. Sales contracted in April and May before growing feebly in recent months.
That weakness is a setback for global automakers that look to China to drive future revenue, though some have grown faster than the market, taking share from Chinese and other rivals.
"From January to October, production and sales of automobiles achieved a slight increase but year-on-year growth dropped slightly," said CAAM in a statement.
Demand has weakened following double-digit annual gains as Chinese economic growth slowed and Beijing and other major cities tightened restrictions on ownership to curb smog and congestion.
October sales of sedans shrank by 5.4 percent to 1.1 million, offset by a 13.9 percent gain for SUVs to 1 million.
For the first 10 months of the year, sales rose just 2.1 percent over the same period of 2016.
General Motors Co., which competes with Volkswagen AG for the status of China's biggest automaker, said October sales rose 11 percent to 382,723.
By contrast, Ford Motor Co. said sales declined 5 percent from a year earlier to 106,000.
Nissan Motor Co., the most popular Japanese brand in China, said sales rose 18.2 percent to 150,271.