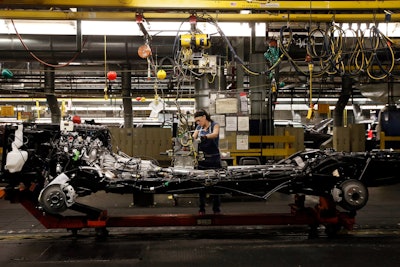 General Motors is laying off the third shift at its Spring Hill, Tennessee, SUV factory as it deals with a slowing U.S. auto market.
About 1,000 people work on the overnight shift, but not all will lose their jobs when it ends Nov. 27. Company spokesman Tom Wickham said GM is still determining how many permanent and temporary workers will be furloughed. The layoffs will be indefinite.
GM also confirmed Friday that it's investing $294 million in the factory to build a new Cadillac SUV. It likely will be a compact to give GM's luxury brand an entry in the hottest part of the U.S. market.
The Spring Hill plant makes the Cadillac XT5 and GMC Acadia midsize SUVs, both of which have had strong sales this year. XT5 sales more than doubled compared with the first eight months of 2016, while Acadia sales are up 45 percent.
But inventories of the SUVs have grown. GMC has enough Acadias to supply dealers for 105 days worth of sales, while Cadillac has a 68-day supply of XT5s, according to Ward's Automotive. Automakers consider a 60-day supply to be optimal.
Wickham says GM is reducing production because overall demand in the U.S. is slowing.
"Even though crossovers (SUVs) make up a larger share of the industry now, overall volumes are moderating," he said. The move also is being made to protect the value of GM's brands by not over-producing, he said.
Through August, auto sales in the U.S. are down 2.7 percent this year, with much of the drop in car sales as the market continues to shift to SUVs.
A small number of workers at an engine plant in Spring Hill will also be laid off due to a strike by Canadian auto workers in Ingersoll, Ontario. The Spring Hill engine plant makes a small four-cylinder engine that goes into the Chevrolet Equinox, which is made at the plant idled by the Canadian strike by the Unifor union.
The strike in Canada began Sunday night over job-security issues. Although bargainers are exchanging telephone calls and messages, no face-to-face talks are scheduled.
Wickham wouldn't say the exact number of layoffs at the engine plant. He also would not comment when asked if GM plans any other production cuts.