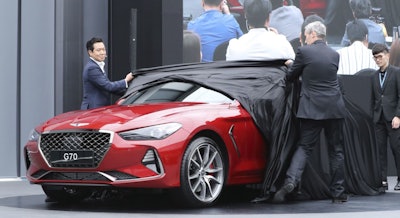 Hyundai Motor will launch its first midsize sports sedan under the Genesis brand in South Korea this week and in the U.S. early next year, the latest attempt by the emerging Korean luxury brand to challenge BMW's 3 series and other European premium cars.
The company however has no immediate plan to launch the Genesis brand in Europe or China. China has been particularly a tough market for Hyundai Motor this year with nosediving sales and supply disruptions amid diplomatic tensions between the two countries.
"We will definitely go to China but we cannot give you exact date yet," Manfred Fitzgerald, Head of Genesis Division, told reporters Friday. "We have to be well prepared as a brand. You have to be present there before going there."
In late 2015, Hyundai Motor launched Genesis as a separate premium brand in a bid to improve the reputation of a brand long associated with vehicles that are cheap but durable enough to be a good value for the money. With Genesis, Hyundai followed other Japanese car brands' footsteps, such as Toyota's Lexus and Nissan's Infiniti.
Hyundai's profitability has deteriorated for several years because of its focus on passenger sedans and its belated response to the growing global demand for sports utility vehicles.
The company, South Korea's largest and the world's fifth-largest along with Kia Motor Corp., dealt with a series of other headaches in recent years in addition to lower demand for its cars.

The diplomatic tensions between Beijing and Seoul over South Korea's deployment of the U.S. anti-missile system against North Korean aggressions, which angered China, hurt Hyundai's China sales, which were nearly halved during the first half of this year.
The G70 is the third model by Genesis, which aims to add three more by 2021 including a sports utility vehicle. Hyundai said it sold 150,000 Genesis cars in the last two years.
With the new G70, it aims to sell 15,000 units per year in South Korea. The G70 offers three powertrains — a 3.3-liter V6 gasoline turbo or G70 Sport, 2.0-liter I4 gasoline turbo and a 1.1-liter I4 diesel. The G70 sport can accelerate from zero to 100 kph (62.5 mph) in 4.7 seconds.
The G70 is equipped with safety features and new car technology that Hyundai is introducing in the market for the first time. Its sensors and system can detect cyclists on the road and can automatically activate emergency braking when drivers fail to brake.
The South Korean version of the G70 has partnered with Kakao, the developer of the most popular domestic messenger app, Kakao Talk, to allow drivers to talk to its map to search its destination instead of having to type in the location. But its voice control system using Kakao' artificial intelligence cannot do much beyond searching a location on a map and controlling radio channels.
Its prices range from 3.75 million won ($33,000) to 5.18 million won ($45,700).