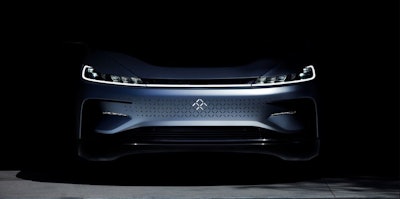 Embattled electric vehicle startup Faraday Future reportedly received a $14 million loan to help sustain its operations as it searches for investors.

The Wall Street Journal, citing sources familiar with the matter, reported that the "rescue loan" from New York investment firm Innovatus Capital Partners was provided over a one-year term as the company's top backer faces questions about his finances.

Faraday's Los Angeles headquarters was offered as collateral for the loan.
Faraday Future quietly launched an effort in 2015 to challenge Tesla for electric vehicle supremacy and broke ground on a massive auto plant outside Las Vegas last year.

But the company's links to Chinese billionaire Jia Yueting came to light just as his media and tech conglomerate LeEco began falling behind on payments and abandoned a planned merger with TV maker Vizio.

Last month, a Shanghai court reportedly froze more than $180 million of Jia's assets, and although officials said that Faraday operates separately from LeEco, the company canceled the Nevada plant days later.

Former BMW and Deutsche Bank finance chief Stefan Krause, who came aboard in March, aims to raise $1 billion in the next year in hopes of building a factory and beginning vehicle production. The newly disclosed loan aims to "keep the lights on while it seeks new investors," the Journal reported.