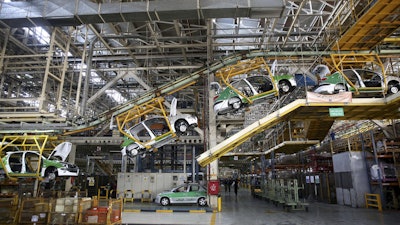 Iran signed the country's biggest-ever car deal worth several hundred million dollars with French manufacturer Groupe Renault on Monday to produce 150,000 cars a year, the latest advance by a European company into Iran's sizeable consumer market.
The €660 million — or $778 million — deal follows the lifting of the U.N. and European Union sanctions after Iran's 2015 nuclear agreement with world powers to curb its controversial uranium enrichment program, a possible pathway to nuclear weapons.
It also comes just days after new U.S. sanctions on Iran were signed by President Donald Trump, who spoke with French President Emmanuel Macron over the weekend about ways to counter Iran's influence in Mideast conflicts. The U.S. legislation, first passed by Congress, imposes penalties on people involved in Iran's ballistic missile program and anyone who does business with them.
Unimpeded by U.S. sanctions that apply to American businesses, Asian and European companies have raced for a share of Iran's market since international sanctions were lifted. Iran, with its population of 80 million people, sits atop the world's fourth-largest oil reserves and the second-biggest reserves of natural gas. It also has well-established manufacturing and agricultural industries.
Just last month, France Total SA and a Chinese Oil Company signed a $5 billion agreement with Iran to develop the country's massive offshore natural gas field in the first such deal since the landmark nuclear deal was struck. Also, Washington granted permission to Chicago-based Boeing and its European competitor Airbus to sell billions of dollars' worth of aircraft to Iran in September 2016.
Renault and other European companies are looking to rebuild their presence in Iran following the lifting of international sanctions. Renault says that in the first half of 2017, its sales in Iran increased by more than 100 percent to 68,365 vehicles — a nearly 10 percent market share.
The company has been operating in Iran since 2003, though operations were halted when Iran came under international sanctions over its nuclear program.
During the signing ceremony in Tehran, Iran's Minister of Industry Mohammad Reza Nematzadeh said the deal with multinational automobile manufacturer Renault would "establish a research and development center for designing" in the country.
A Renault executive, Thierry Bolloré, said it would help transfer technology to Iran and reinforce Groupe Renault's position there.
"This joint venture will enable an acceleration of our growth in this country," he said in a statement.
The car deal is expected to create about 3,000 jobs for the two Iranian companies involved: IDRO, or the Industrial Development and Renovation Organization of Iran, and the privately-owned Negin Group, which imports Renault products to Iran.
The plant, located 120 kilometers (75 miles) outside Tehran, will produce Duster and Symbol cars starting in 2018, adding 150,000 vehicles a year to the Iranian market above Renault's already existing capacity of 200,000 vehicles a year in Iran. Renault, a majority shareholder with a 60 percent share in the deal, will have its own distribution network in Iran for the first time. The deal was first reached with Iran's government last September.
Also last year, French carmaker PSA Peugeot Citroen reached a deal to open a plant producing 200,000 vehicles annually in Iran. Peugeot was a major player in Iran's car market before international sanctions were imposed.
Iran produces about 1,350,000 vehicles a year, though authorities hope that number will reach 3 million annually by 2025. There are around 30 car manufacturers in Iran, most of which assemble Chinese and Korean cars in Iran.