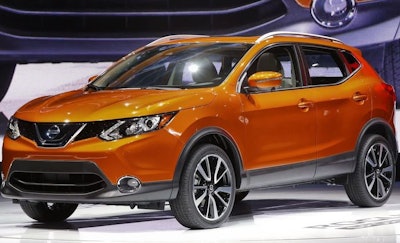 The alliance of Japanese automaker Nissan Motor Co. and Renault SA of France led in global vehicle sales for the first half of this year, the first time it has claimed top rank, beating perennial top-sellers Volkswagen, Toyota and General Motors.
The Nissan-Renault alliance, which has included Mitsubishi Motors Corp. it acquired the Japanese automaker last year, sold 5,268,079 vehicles around the world in January-June.
That was more than Volkswagen AG at 5,155,600, and Japanese rival Toyota Motor Corp., which said Friday it sold 5,129,000 vehicles in the first half.
Volkswagen, which includes Audi and Lamborghini nameplates in its group, became the world's top selling automaker last year for the first time.
All the top auto manufacturers have various nameplates under their folds and cater to various world markets, standing ready to make up with sales elsewhere when they falter in one region.
U.S. rival General Motors Co., which had led global industry sales for more than seven decades, trails in fourth place, selling about 4.7 million vehicles in the first half.
Although Volkswagen's reputation has suffered recently from a huge scandal over cheating on emissions tests, booming sales in China and other markets have helped offset the damage, showing that some consumers were just shrugged off the scandal.
It's unclear whether Nissan will manage to hold on to its lead for the full calendar year since the top automakers are running neck-and-neck in sales.
Auto executives tend to play down the importance of the sales numbers, saying they are just trying to satisfy customers with good products. Volkswagen was an exception, often voicing its desire to become No. 1 until the scandal silenced its expressions of that ambition.
But the rise of Nissan-Renault highlights the power of manufacturers outside Detroit.
Nissan Corporate Vice President Joji Tagawa said sales volume by itself was meaningless unless growth leads to higher profits.
"Personally, whether we are No. 1, No. 2 or No. 3 doesn't interest me," he told reporters earlier this week. "And it is not a goal for our company."
Toyota, which makes the Camry sedan, Prius hybrid and Lexus luxury models, surpassed General Motors in 2008 but fell behind GM in 2011, when production was hit by a quake and tsunami in northeastern Japan. Toyota became No. 1 again, only to be dethroned by Volkswagen.
Carlos Ghosn, chief executive of the Renault-Nissan alliance, said earlier this week the automaker will continue to build on its record sales. Among the models the alliance offers are the X-Trail, Altima and Qashqai, as well as the Leaf electric car.
"We will continue to leverage our significant economies of scale and global market presence to deliver valuable synergies for our member companies this year," he said.