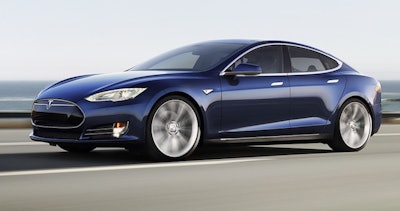 BASF, one of the world's top coatings manufacturers, has released its annual trends report with 65 up-and-coming colors.
In the report, which is aimed at guiding auto manufacturers, the German chemical giant identified deep and non-saturated blues as the most popular auto colors for 2017.
The top hue isn't just about which color is in vogue — it reflects deeper societal trends. While white and neutral colors have been popular in recent years, BASF says the shift to blues has to do with the rise of younger drivers in cities and their preference for a color that feels natural.
"Blue...has a calming effect and a strong correlation with natural things," Paul Czornjj, the head of design for BASF's Color Excellence Group, said.
While most manufacturers aren't expected to ramp up production of more blue cars until 2021, some have already started. Tesla, for example, debuted three new colors last year, including a dark blue.
BASF has also responded to demand by developing new hues including a dark navy and a mild turquoise blue.
BASF, the largest chemical company in the world, ranked No. 10 on Coatings World's list of 2016 global paint companies. Its coatings division brought in $3.6 billion in sales last year.
The company also announced this week that it plans to invest $40 million over the next two years in its auto coatings production in North America. The company will spend the investment on expanding capacity at its plants in Greenville, Ohio and Tultitlan, Mexico.