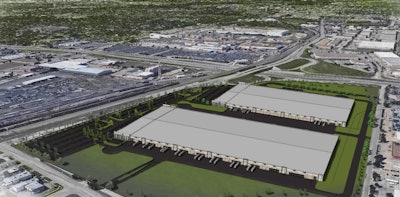 General Motors plans to move nearly 600 jobs currently performed overseas into a newly announced parts complex in Texas.

In an effort to curb transportation costs and increase operational efficiency, the Detroit automaker is establishing supplier facilities near its U.S. factories. Last week, GM unveiled plans for a supplier park near its expanding Arlington Assembly plant.

The facility is expected to open next year and employ up to 1,250 workers in the Dallas suburb. The workforce will include 850 new jobs, 600 of which are currently housed abroad. The Wall Street Journal reported that those jobs will move from Mexico.

"This new supplier park will create improved logistics efficiency and coordination, while also bringing significant employment opportunities to Arlington," GM Global Purchasing and Supply Chain senior vice president Steve Kiefer said in a statement.
The automaker previously announced $1 billion in upgrades to the Arlington plant and about 7,000 jobs at the facility. The factory currently employs more than 4,200 workers that build the Chevrolet Tahoe and Suburban, GMC Yukon and Yukon XL and Cadillac Escalade.

International Automotive Components, a GM parts supplier based in Luxembourg, will begin production in the new Arlington complex and plans to make the city a flagship of its U.S. operations.

"IAC's role as a supplier of vehicle interiors to GM extends back almost a century and this impressive new center marks a great beginning to our next century in partnership with this customer," said president and CEO Steve Miller.