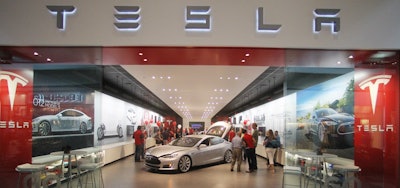 Connecticut's Department of Motor Vehicles says electric car maker Tesla Motors has operated its Greenwich "gallery" like a new car dealership, but without the proper state license.
DMV last month ordered Tesla to "cease all business functions" in Greenwich, but a revised order released Thursday puts that action on hold pending an appeal.
State law prevents a vehicle manufacturer from being a retailer. Tesla is lobbying legislators to change the law, allowing it to open retail locations.
The Connecticut Automotive Retail Association opposes Tesla's efforts, saying the company should participate in the existing franchise system. The association filed a petition with DMV last summer, accusing Tesla of conducting direct sales.
While customers use personal computers to order a vehicle, DMV says the purchase practice is identical to a licensed dealership.