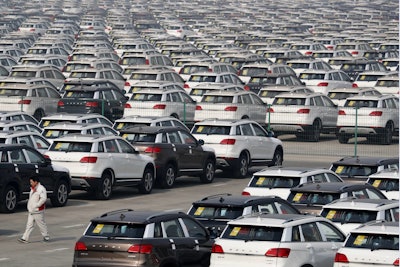 The largest automakers in the U.S. market each reported sluggish April sales amid concerns that vehicle demand could be on the decline.

Detroit's "Big Three" — General Motors, Ford and Fiat Chrysler — saw sales declines of 5.8 percent, 7.2 percent and 7 percent, respectively, compared to the same month in 2016.

Japanese counterparts Honda, Toyota and Nissan, meanwhile, fell by 7 percent, 4.4 percent and 1.5 percent, respectively.

Those six companies accounted for more than 75 percent of the U.S. auto market in March, according to The Wall Street Journal.
Last month included one less selling day than April 2016, but analysts largely attributed the numbers to more troubling factors in the U.S. auto market.

Some projections show that sales will fall short of the annual record set last year, and a report in late March showed that vehicle inventories were at their highest levels since 2004.

Automakers told the Associated Press that sales and vehicle prices remain strong, but dealer incentives could already be taking a toll on the prices paid by car buyers — which could erode automaker profits for the year.

Average selling prices reportedly began to slide even among trucks and SUVs, but top automakers continued to report strong sales numbers for larger vehicles such as GM's SUVs, the Ford Escape and Expedition and FCA's Jeep and Ram brands.