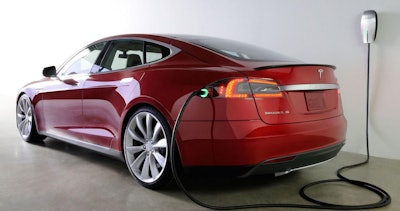 Tesla this week announced plans to double the number of high-speed charging stations for its electric vehicles this year.

The electric carmaker said in a statement that more than 5,000 "Superchargers" were operating around the world at the beginning of 2017; that number will exceed 10,000 by the end of the year.

Tesla owners generally charge their vehicles for hours at a time at home, but the company's Superchargers allow drivers traveling longer distances to recharge their vehicles in about 30 minutes.

The automaker long made the chargers free to its drivers, but late last year announced plans to implement fees for frequent Supercharger users and on drivers who leave their vehicles at charging stations after recharching is complete.

Those moves, the company said in November, would change "the economics of Supercharging" and "allow us to reinvest in the network, accelerate its growth and bring all owners, current and future, the best experience."
The expansion of the Supercharger network would include a more than 150 percent increase in stations in North America alone, including more than 1,000 more stations just in California.

Tesla also plans to build larger Supercharger sites along busy travel routes, broaden charging options in urban centers and increase conventional "Destination Charging" connectors — which mimic at-home charging at hotels, restaurants and other public places — from about 9,000 to more than 15,000 this year.

Tesla's goal is to ensure that drivers "never wait to charge" as it dramatically expands its auto production and introduces its first vehicle aimed at the broader car-buying public.

"We know that to truly advance electric vehicle adoption, we must continue investing in charging infrastructure," company officials wrote.