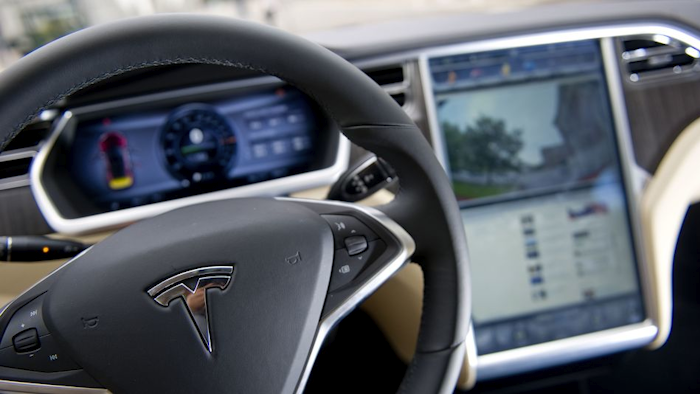 Federal investigators determined that Tesla's semi-autonomous driving system was not defective in the wake of a fatal crash last spring, but criticized the electric vehicle maker for dubbing the technology "Autopilot."

National Highway Traffic Safety Administration spokesman Bryan Thomas told the Associated Press on Thursday that Tesla will not be fined or subjected to a recall after its investigation wrapped up.

The findings showed no safety defects were at fault in the May 7 crash, when an Ohio tech entrepreneur was killed while driving his Tesla Model S. The vehicle's Autopilot system was engaged and failed to recognize a tractor-trailer that turned in front of it on a Florida highway.

Although that accident sparked the investigation, the AP reported that dozens of other crashes involving Autopilot-enabled vehicles were also included in the agency's analysis.
The Florida accident prompted calls from safety advocates for Tesla to disable Autopilot and allegations that Tesla's marketing sent mixed messages about the system's capabilities.

The camera technology used by Tesla at the time was unable to recognize objects crossing in front of its cars, but the NHTSA said that Autopilot was primarily designed to prevent rear-end crashes.

NHTSA officials added this week that semi-autonomous systems require the "continual and full attention of a driver" and urged automakers to consider "the inattentive driver" when designing their self-driving technology.

Tesla, at the time of the accident, blamed a vehicle crossing oncoming traffic and said that no evidence suggested "that Autopilot was not operating as designed and as described to users."

The automaker added that the software is designed to ensure that drivers keep their hands on the steering wheel at all times, but officials also said Autopilot had a strong safety record compared to conventional vehicles and would improve as technology evolves.

"At Tesla, the safety of our customers comes first, and we appreciate the thoroughness of NHTSA's report and its conclusion," the company said in a brief statement this week.