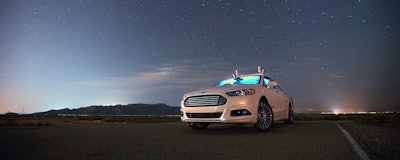 An autonomous Ford Fusion Hybrid successfully drove through a private roadway at night without the use of headlights, according to a press statement made by the company Monday.
Ford conducted the evening cruise on its Wittmann, Arizona, proving grounds solely through the use of its LiDAR technology.
The company said the accomplishment is significant because it showed that LiDAR, which the company typically supplements with radar and camera sensors, can act independently on a roadway that lacks lights.
"Thanks to LiDAR, the test cars aren't reliant on the sun shining, nor cameras detecting painted white lines on the asphalt," said Jim McBride, Ford's technical leader for autonomous vehicles, in the press statement. "In fact, LiDAR allows autonomous cars to drive just as well in the dark as they do in the light of day."
Allowing a vehicle to drive at night as effectively as it does during the daytime is a significant boon to safety. For example, Ford cited National Highway Traffic Safety Administration data which shows that the fatality rate for occupants of passenger vehicles is three times higher at night than it is during the day.
Ford's autonomous vehicles use high-resolution 3D maps to drive at night. These maps are much more detailed than the roadmap you might pick up at a gas station. They feature details regarding the road being traveled, its markings, surrounding geography, topography, and landmarks like buildings or signage.
Pulses created by LiDAR technology 2.8 million times per second help the vehicle to keep track of its location on the advanced map as it travels. Other information gathered from radar sensors are then coupled with data gathered by LiDAR to give the vehicle an advanced sense of its surroundings.
The engineers working on Ford's recent test drive were given night-vision goggles so that they could keep track of the car by following the infrared laser beams that surrounded the vehicle.
"Inside the car, I could feel it moving, but when I looked out the window, I only saw darkness," said Wayne Williams, a Ford research scientist and engineer, according to the media statement. "As I rode in the back seat, I was following the car's progression in real time using computer monitoring. Sure enough, it stayed precisely on track along those winding roads."