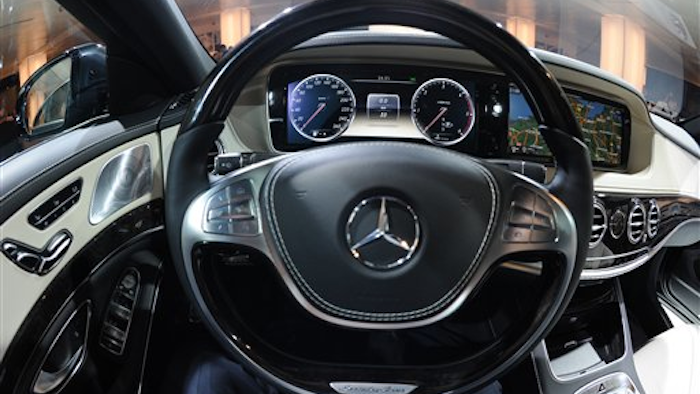 BIRMINGHAM, Ala. (AP) -- A judge with the National Labor Relations Board is considering a complaint filed by union supporters at the Mercedes-Benz plant in Alabama, where labor has failed to gain a foothold despite past organizing attempts.
The Tuscaloosa News (http://bit.ly/1gHoJ10 ) reported Tuesday that a hearing being conducted this week in Birmingham focuses on the complaints of union backers who work at the factory, located in Vance.
Union supporters contend the company has violated their rights by preventing them from talking freely with co-workers about forming a union at the auto plant. Mercedes-Benz denies the allegation and says it is neutral on whether employees should join the United Auto Workers.
At issue is whether the company can restrict discussions about unions in "team center" areas where production workers gather before shifts and take breaks.
Pro-union employees filed an unfair labor practices suit last year with the NLRB, which dismissed most of the allegations but found merit in those involving restrictions on unionizing in the team centers. During the hearing, NLRB attorneys are presenting the case before the administrative law judge.
Three workers told the judge the company restricts the places where workers are allowed to talk about unionizing.
Michael Kurt Garner of Duncanville, the lead plaintiff, testified the company's restrictions at the team centers violated his free speech. Garner, a 14-year Mercedes employee, said workers on the assembly line "talk about football, sports, current events, any general topic," but he cannot talk about a union during production.
In the team centers, similar conversations occur as workers gather before their shifts start, he said. Employees also post thank-you cards on the bulletin board and solicit co-workers. That, he said, occurs while the assembly line is running nearby.
"One girl sold cookie dough. One girl sold raffle tickets for a shotgun, and another sold raffles for tires," he said. "Another girl was selling candy for her son."
After the first day of testimony, Mercedes attorney Matthew Everitt told reporters the company is "committed to being neutral on the union topic."
"In fact, we've worked with our team members to adjust policies at the plant to ensure we stick to neutrality," he said. "For example, last year, at the request of some team members, MBUSI changed a long-standing policy on distributing non-work related materials."
The administrative law judge is not expected to release his decision until later. Typically, such decisions come out about a month after the hearing, and either side can appeal to the full board.
The UAW has pushed for about two years to organize workers at Mercedes, where two previous union campaigns failed. The first was from 1999-2002, and the second was in 2007.
This time, the UAW is making an even bigger push with help from IG Metall, the giant industrial union in Mercedes' home country of Germany.