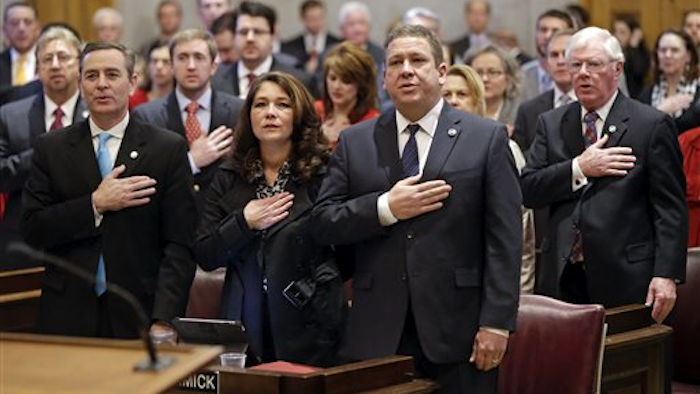 A top Republican in the Tennessee General Assembly expects his colleagues to approve the state share of a $300 million incentive package for Volkswagen despite misgivings over a "secret deal" for the United Auto Workers union at the German automaker's plant in Chattanooga.
House Republican leader Gerald McCormick of Chattanooga said Tuesday that while he understands some of his colleagues' concerns about the union's growing role at the plant, he doesn't want to backtrack on deal struck by Gov. Bill Haslam last summer that is leading to a 2,000-job expansion at the factory.
"The state of Tennessee will keep its promises, and the Legislature will help the state keep its promises that that were made to Volkswagen," McCormick said.
The UAW narrowly lost a union election at the plant in last February, but Volkswagen has since created a labor policy that guarantees regular interaction with management and access to meeting space within the plant to unions sign up at least 15 percent of workers. The UAW last month qualified for the top tier of the labor policy by showing it had signed up at least 45 percent of workers at the plant.
While the new policy does not address exclusive bargaining rights, several Chattanooga-area Republicans have grumbled about approving incentives for Volkswagen.
"We do hope that Volkswagen will consider the sentiments of the community when it comes to the United Auto Workers," McCormick said. "We really don't want them in Chattanooga unless the workers vote in an open election to have them there.
"We don't want them to slip in the back door because of a secret deal with Volkswagen," McCormick said.
A rival group called the American Council of Employees, which is led by anti-UAW workers at the plant, has argued that Volkswagen has favored the UAW under its new labor policy. The group has so far failed to qualify under the VW labor policy.
The Detroit Free Press reported earlier this week that Michael Horn, the president and CEO of the Volkswagen Group for the Americas, said he was "very confident" that Tennessee lawmakers would approve the deal.
"I think the politicians in Tennessee — they value jobs and they value business, and I think we will work it out," Horn said at an event surrounding the North American International Auto Show.
Haslam later traveled to Detroit to meet with VW executives and pose for photos in front of a concept SUV based on the new SUV scheduled to be built at the Chattanooga plant in 2016.
The governor told reporters last week that "there's no question" it would become more difficult to strike future economic development deals if lawmakers were to torpedo the deal with Volkswagen.
"Now we always put that as a caveat to the deal that the Legislature has to approve it," he said. "But historically, that has always happened in Tennessee."