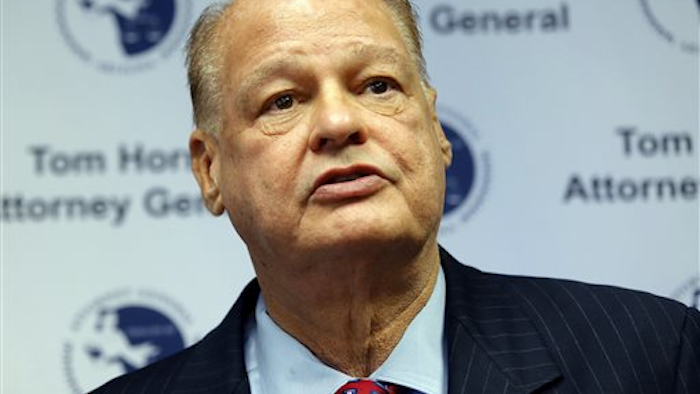 Arizona's attorney general has sued General Motors Co. for failing to recall millions of cars and trucks with safety defects the auto giant did not disclose for years. The lawsuit seeks potentially billions of dollars in fines.
Attorney General Tom Horne said Thursday that he sued under the state's consumer fraud statutes and is seeking a $10,000 fine for each of hundreds of thousands of defective vehicles sold in the state. The lawsuit filed in Maricopa County Superior Court in Phoenix also seeks an injunction barring GM from similar actions and an order that it hand over profits it made from selling defective vehicles.
Horne took action independent of a group of 48 states that have been jointly investigating GM, which Arizona was participating in. "I made the decision that my job was to protect Arizona citizens and that I would be doing that better if we moved ahead with the lawsuit," he said.
GM said in a statement that the lawsuit "misrepresents the facts, the performance of our vehicles and our work to ensure the safety of our customers. We intend to vigorously defend ourselves."
Horne's actions came on the same day that news broke that he was settling campaign-finance allegations brought by the state's public campaign financing board and would pay a $10,000 fine. Horne is leaving office in January after losing to his Republican opponent in the primary after years of allegations that he violated campaign laws in 2010 and again this year.
Horne said the two developments were unrelated. "One of the questions that I was asked frequently was, 'Can I continue doing my job while defending against charges which I say are false charges?' and I've always said yes, I can," he said.
GM has recalled more than 30 million vehicles so far this year, including millions of cars equipped with a defective ignition switch that has been blamed for at least 33 deaths. The ignition switches were installed in many GM small cars for years, and the company has been under fire for failing to recall them until early this year.
GM has hired compensation expert Kenneth Feinberg to pay victims and their families and expects to pay $400 million to $600 million in claims.
In addition to two assistant attorneys general listed on the lawsuit, Horne brought in a Seattle law firm with a long history of class-action lawsuits against major companies, including suing Toyota Motor Corp. in a sudden-acceleration case.
The GM lawsuit alleges the Detroit company failed to ensure its products were safe, did not tell the truth about safety issues and failed to promptly recall defective vehicles. It also said GM's purported new safety culture "was an illusion given the company's egregious failure to disclose, and its affirmative concealment of, ignition switch defects and a plethora of other safety defects in GM-branded vehicles."