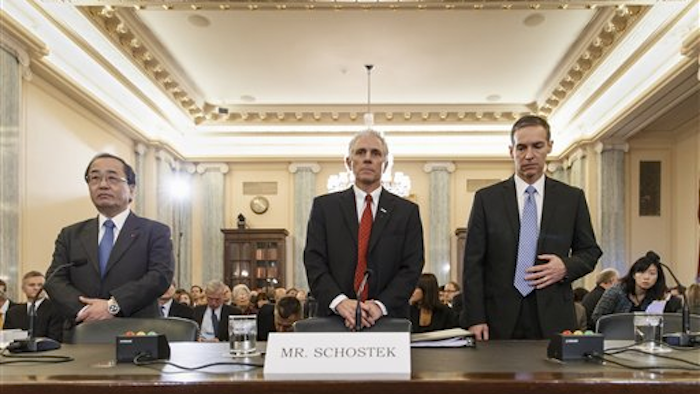 The global quality chief of Takata Corp. apologized and an official from Honda acknowledged the automaker broke a disclosure law as a Senate committee put the spotlight on a growing problem with exploding air bags.
Hiroshi Shimizu, Takata's senior vice president of quality, said the Japanese parts supplier is "deeply sorry and anguished" about each instance when its air bag inflators didn't perform as designed. The air bags have been blamed for five deaths worldwide. Shimizu said the company accepts full responsibility for three deaths, but said that two others were still under investigation.
In the U.S., more than 8 million cars have been recalled to fix the potentially faulty inflators, which can explode with too much force and spew metal fragments at passengers. Some of the recalls have been limited to high-humidity states mainly in the South.
The National Highway Traffic Safety Administration has said that prolonged exposure to high humidity can cause the inflator propellant to burn too fast, blowing apart a metal canister. This week it demanded that Takata and a handful of automakers broaden a recall for driver's side air bags to make it nationwide.
Shimizu told the Commerce Committee that Takata believes the regional recall is sufficient. He said tests have not revealed any inflator ruptures outside the high-humidity zones. So far, Ford, Mazda, Chrysler and Honda, the companies covered by the agency's demand, have not expanded their recalls.
Honda is Takata's largest customer and so far has recalled more than 5 million cars for air bag repairs. The company acknowledges that four air-bag related death occurred in Honda vehicles.
Rick Schostek, executive vice president for Honda North America, said under questioning that the automaker violated the TREAD act, a law passed in 2000 requiring faster reporting of deaths, injuries and safety defects by automakers.
"I think we acted with urgency, but I do I think we could have moved faster in some respects, I absolutely do," Schostek said under questioning. "Have we met our obligations to report TREAD? We have not."
The admission means Honda is likely to face action, including fines, from regulators. Schostek said Honda is conducting an internal review and will provide more information to regulators Monday.
Some lawmakers implied the air bag problem has been covered up by Takata and that NHTSA was once again slow to react to a major safety issue and seek recalls.
"We need to know what they knew and when they knew it," said Sen. Dean Heller, R-Nev.
Shimizu, who faced tough questions from Senators during the hearing, said the company investigated a Honda air bag failure in 2005, finding that there was no "system error." That investigation was reported to Honda, but not to NHTSA, Shimizu said. Another investigation was started in 2007, he said.
His answers sometimes frustrated Senators, who seemed bewildered by the dizzying array of recalls with differing geographic boundaries and explanations. Earlier recalls have been blamed on problems at Takata plants in the U.S. and Mexico.
Lawmakers also criticized Honda and Chrysler for entering into confidential legal settlements in air bag lawsuits. The settlements kept information from the public, they said.
"We're here because of delay, nondisclosure" and deliberate concealment of the role of air bags in accidents when carmakers settled with victims' families, said Sen. Richard Blumenthal, D-Conn.
He told Schostek: "Your company deliberately concealed the facts."
Stephanie Erdman of Destin, Florida, whose face was severely injured by a ruptured Takata air bag inflator in her 2002 Honda Civic, testified early in the hearing, her voice breaking as she urged the government to bring an end to any further accidents.
"I should not have been injured in the horrifying way that I was. ...These companies should have done everything they could," she said.