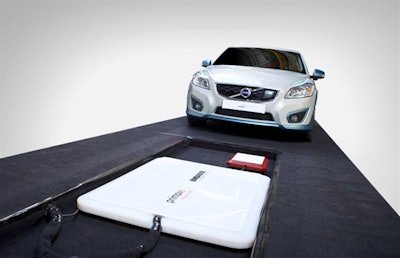 Göteborg, Sweden (Manufacturing.net) — Volvo Car Group has today announced that an advanced research project, conducted in partnership with Flanders' Drive, has ended in results that using inductive charging for electric vehicles has "a promising future." The company appears confident that with more regulatory insight, there is a good possibility that future electric vehicles will only need to be parked in the customer's garage, for example, to be charged automatically.
Inductive charging uses and electromagnetic field to transfer energy, and has already been used in small-scale consumer electronics devices, such as smartphones and electric toothbrushes. An induction coil built into the charging base station creates an alternating electromagnetic field that is received by a second induction coil in the portable device. This converts the field back into electrical energy that in turn charges the battery.
The Flanders' Drive project featured a consortium of companies, including Volvo Car Group, Bombardier Transportation and the coachbuilder Van Hool, and was partly funded by the Flemish government. Volvo supplied a C30 Electric with a power output of 89 kW (120 HP) for use in the project.
Lennart Stegland, Vice President, Electric Propulsion System at Volvo Car Group, said in a statement: "Inductive charging has great potential. Cordless technology is a comfortable and effective way to conveniently transfer energy. The study also indicates that it is safe. There is not yet any common standard for inductive charging. We will continue our research and evaluate the feasibility of the technology in our hybrid and electric car projects."
A charging plate is buried in the ground, for instance in the driveway at home where the car is parked. The charging plate consists of a coil that generates a magnetic field. When the car is parked above the plate, energy from the plate is transferred without contact to the car's inductive pick-up. The energy that is transferred is alternating current and this is then converted into direct current in the car's built-in voltage converter, which in turn charges the car's battery pack. Charging a battery pack of the size fitted to the Volvo C30 Electric, 24 kWh, takes about an 2.5h, if the battery is entirely discharged. The charging system that has been tested is dimensioned for 20 kW. Credit: Volvo Car Group