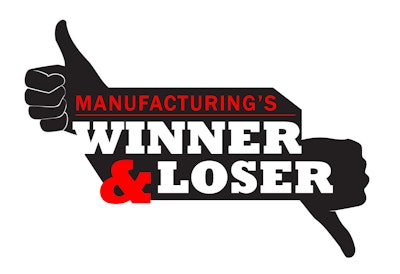 This week's winner received FDA approval for the first genetically modified animal for human consumption; this week's loser from the automotive sector saw a small flaw turn into a big problem. 
Winner
The Food and Drug Administration on Thursday approved AquAdvantage Salmon, the first altered animal allowed for human consumption. Massachusetts-based AquaBounty created the genetically modified salmon. The FDA said of the fish that there are "no biologically relevant differences in the nutritional profile of AquAdvantage Salmon compared to that of other farm-raised Atlantic salmon."
Though there have been widespread concerns about genetically modified foods over the past several years, there are a number of benefits that come with this development, including the possibility of creating disease-free animals. AquaBounty CEO Ron Stotish said the fish is "a game changer that brings healthy and nutritious food to consumers in an environmentally responsible manner without damaging the ocean and other marine habitats."
The AquAdvantage Salmon has an added gene from the Pacific Chinook salmon that causes it to produce more growth hormone and grow faster. Scientists have also proposed the possibility or creating animals that can bred to be cleaner, grow more efficiently and grow faster, all without harming the environment. 
Still, there are numerous groups against genetically-modified organisms with reasons ranging from safety concerns to ethical issues and an overall consumer wariness of GMO products. 
Loser
Toyota announced Wednesday it would recall about 440,000 cars due to transmission problems that could create a fuel leak and cause the vehicles to stop. The Corolla Fielder is one among seven models manufactured between September 2006 and October 2008 that are subject to the recall. 
A rubber part in the transmission could be damaged, causing an oil leak and crippling the clutch, according to the Ministry of Land, Infrastructure, Transport and Tourism. According to the company, this issue is due to a design flaw. 
A total of 74 cases were reported in which cars did not run or could not gain speed even though the engine was started, but so far there have been no accidents as a result of the problem, Toyota said. 
Automotive recalls are relatively frequent recently, and oftentimes a number of them find their way to IMPO's "loser" list each week. The goal is that this serves as a lesson to be shared across the automotive industry to eliminate the small mistakes that can lead to a recall — even in the smallest of design flaws.