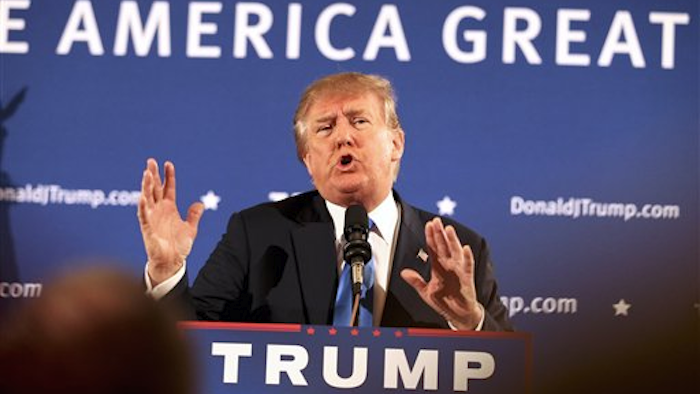 Last week, IMPO's top stories included a massive automotive recall, a Chinese company buying Texas oil assets and a new pizza delivery car — oven included.
Check out last week's top five stories:
Ford CEO Responds To Trump: 'Facts Are Stubborn Things': Donald Trump has his facts wrong when it comes to claims the Republican presidential candidate pressured the company into scrapping plans to build a plant in Mexico, the chief executive of Ford Motor Co. said Tuesday. During a conference call to discuss the automaker's third-quarter earnings, Mark Fields said Ford has not talked to the billionaire businessman or made any recent changes to its manufacturing plans. "Facts are stubborn things, and at Ford we're proud of the facts," Fields said. "Unfortunately, we suspect the facts are getting lost in the politics." Trump tweeted on Sunday that, because of his constant criticism in the campaign, Ford had decided to cancel plans to build a plant in Mexico. But Fields said that Ford's decision to move heavy truck production from Mexico to Ohio, which Trump was apparently referencing in his tweet, was made in 2011. Production began in Ohio in August. Trump's tweet appears to have been sparked by a posting on a political blog, which cited an August NBC News article about the manufacturing shift. 
The Vacuum Industry Has Its Own VW-Style Scandal: Two more German brands are under fire for potential test cheating according to a lawsuit filed by the U.K. vacuum company Dyson. As reported by the Press Association, Dyson has launched a lawsuit against German rivals Bosch and Siemens stating they are misleading consumers in a similar fashion to the Volkswagen diesel emissions testing scandal. Dyson indicates that independent testing shows vacuums made by Bosch and Siemens could draw more than 1,600W of power despite having a 750W rating. Because vacuums are tested in dust-free environments, Dyson claims the machines use much more power when used in homes. Because of the way the testing is conducted, Bosch and Siemens products receive a AAAA energy consumption rating, while in home use shows a performance closer to an "E" or "F" rating. The lawsuit follows a similar attack by Dyson against the European regulatory testing procedures.
GM Recalling 1.4M Cars; Oil Leaks Can Cause Engine Fires: For the third time in seven years, General Motors is recalling cars that can leak oil and catch fire, in some instances damaging garages and homes. The recall, which covers 1.4 million vehicles dating to the 1997 model year, is needed because repairs from the first two recalls didn't work. More than 1,300 cars caught fire after they were fixed by dealers, the company said. U.S. safety regulators became aware of the fires in early 2007 and GM has since reported 19 minor related injuries. In 2008, a GM spokeswoman said the cars were responsible for 267 fires, including at least 17 that burned structures. Over time, a valve cover gasket can degrade, allowing oil to seep out. Under hard braking, oil drops can fall onto the exhaust manifold and catch fire. Flames can spread to a plastic spark plug wire channel and the rest of the engine.GM hasn't come up with a final fix in the most recent recall, spokesman Alan Adler said. The company will use state registration databases in an effort to track down the owners, he said. The 1,300 fires were discovered when GM began investigating whether to recall some 2004 models, Adler said.
Chinese Company Pays More Than $1B For Texas Oil Fields: A Chinese investment company is buying $1.3 billion in West Texas oil assets. Yantai Xinchao Industry Co. of Shanghai, The Wall Street Journal reports, will purchase fellow investment company Ningbo Dingliang Huitong Equity Investment Center. According to a regulatory filing, the deal includes the acquisition of oil properties in Howard and Borden counties from Tall City Exploration and Plymouth Petroleum. Assets in the U.S. energy sector are increasingly attractive amid dramatically lower crude oil prices, particularly asChinese firms look overseas due to the country's sluggish economy and the dominance of state-owned companies in its energy sector. Despite the interest from multiple firms, U.S. regulators are hesitant to approve Chinese investment in sensitive domestic resources. Yantai Xinchao, however, indicated that it already secured approval from the U.S.'s Committee on Foreign Investment.
Manufacturing Minute: Piping Hot Pizza Car: Jon Minnick, editor of Manufacturing Business Technology, discusses the new Domino's Delivery Expert (DXP) which has a built-in oven to keep pizzas hot. The oven can be heated up to 140° Fahrenheit. The video shows the outside of the vehicle with warming oven included. 
Free Whitepaper: Driverless and Talking Cars: New Technology Transforms the Way We Travel