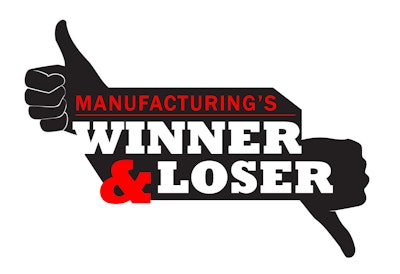 This week's winner has unveiled a new product that successfully kills most harmful bacteria; the loser is facing another massive recall — the third one in seven years for the same problem.
Winner
Sherwin-Williams, paint manufacturer, developed the bacteria-killing product called Paint Shield, earning the first microbicidal paint label from the Environmental Protection Agency.
The paint product is verified to eliminate 99.9 percent of Staph, E. coli, MRSA and other various bacteria after two hours of exposure on painted surfaces. According to officials, it remains effective for up to four years if properly maintained.
The product could be beneficial to facilities where bacteria is more likely to be spread, such as health care complexes, schools, day care centers, senior living communities and so on. The company said the new technology is different from other antimicrobial paints in that the others do not kill pathogens on painted surfaces; they just prevent the spread of bacteria.
Loser
This week saw another burst of automotive recalls, but one in particular stood out — General Motors' recall of 1.4 million vehicles, dating back to the 1997 model year.
It's not simply the large number that makes this particular recall stand out, but rather the fact that this will be the third time in less than a decade that GM is recalling cars that can leak oil and catch fire. The repairs made in the previous two recalls didn't work; GM said more than 1,300 cars caught fire after they were fixed by the dealers previously.
GM has reported 19 minor related injuries since regulators became aware of the problem in 2007. In 2008, a company spokeswoman said the cars were responsible for 267 fires, at least 17 of which burned structures.
Spokesman Alan Adler said the company has not yet come up with a solution for the most recent recall, so they are unsure of how much it will cost the company — but the size of the recall will likely have an impact on the company's fourth-quarter earnings.
GM has been no stranger to recalls and safety threats over the past several years, so it's most likely time to evaluate what changes can be made to production overall to stop the problems before they start.