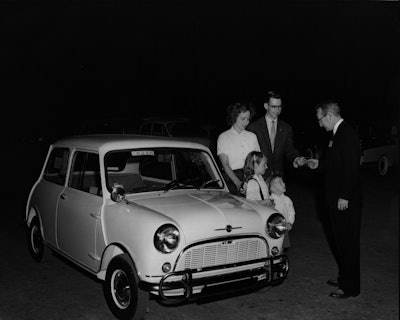 On this day in 1959, the British Motor Company debuted the Mark I Mini, the first version of the Mini. 
Marketed as a small – but still spacious – and affordable vehicle, the Mini was created by Alec Issigonis, the chief engineer at Morris Motors (part of the merger that created BMC). This was by request of the head of BMC Sir Leonard Lord who wanted to create an alternative vehicle to the small, fuel-efficient cars by German automakers in the midst of fuel shortages in Europe.
The car was marketed under two names, the Austin Seven and the Morris Mini-Minor, with the only difference being the radiator grille on each. By 1962, both were referred to simply as the Mini. 
The original price for the Mini was around $800, but the Mini was widely known as a car that defied class — anyone could have one. 
After collaboration between Issigonis and his friend John Cooper, the notorious Mini Cooper debuted in September 1961.
By 1999, more than 5 million Minis had been produced, and the Mini was voted "European Car of the Century" by a panel of 130 international automotive journalists.
The Mini Cooper continues its fame today through German automaker BMW.
Check out this advertisement for the Mini from the 1960s: