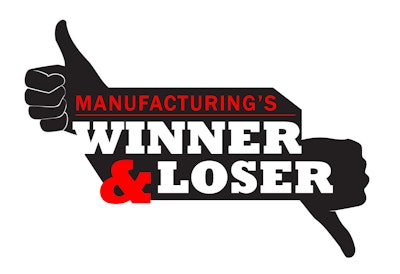 This week we have a winner and a loser both from the automotive sector. The winner took a significant step in reaching their annual production goal; the loser is recalling about 379,000 vehicles — most of which had already been recalled previously for the same problem.
Winner
Tesla Motors, in addition to unveiling the long-awaited Model X this week, opened a new factory in Europe that is expected to double its European production. The factory in Tilburg, Netherlands, will assemble more than 90 cars daily to reduce wait times for the Model S, with a potential for expansion — including the future production of the Model X. 
The nearly 78,000-square-meter facility is also host to Europe's first indoor production test track, stretching to 750 meters. The factory will be Tesla's first dedicated facility outside of its home market. 
Tesla is working toward a production goal of 500,000 cars per year by 2020, and this plant — including its future expansion — is one of many steps to reach that goal. Tesla also plans to release the Model 3 — gauged at around $35,000 — in an effort to transition from a luxury brand to a mass-market company in less than three years. 
Loser
This week, Ford recalled 342,000 Windstar minivans and 37,000 F-150 trucks. This is the second time the Windstars are being recalled for the same rear-axle issue.
The trucks have an issue with the adaptive cruise control which automatically brakes to avoid collisions. When passing a large truck, the sensors sometimes incorrectly determine that truck is in the driver's lane. One crash has been reported, but no injuries. 
The Windstars were previously recalled in 2010 for axle cracks that could grow, leading to complete failure and a crash. Now, Ford says the reinforcement brackets from the first recall, which were designed to mitigate problems if the axle failed, could have been installed incorrectly. The company reports a small number of accidents, but no injuries. 
Making a recall for an issue is already complicated and, at times, costly to a company. To make a recall on the former recall, however, could lead to unnecessary additional costs and potentially harm the reputation of the company in the eyes of consumers. This will hopefully serve as a lesson to Ford, as well as other automakers, to not make the same mistake twice — especially in an industry plagued by dozens of recalls and the resulting consumer wariness.