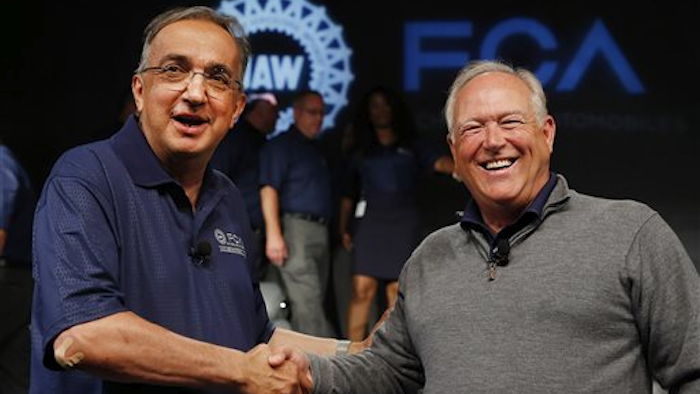 The tentative labor contract between Fiat Chrysler and the United Auto Workers union appears headed for defeat after emphatic rejections by workers at two key FCA plants.
FCA and UAW officials announced the four-year agreement earlier this month, the first to be struck with Detroit's Big Three automakers and an intended template for deals with Ford and General Motors.
Voting by FCA's union workers began this week, but after the contract was met with skepticism by some rank-and-file members, initial results were not promising.
Reports on Wednesday indicated that plants in Toledo, Ohio, and Sterling Heights, Michigan, soundly rejected the proposal.
In Sterling Heights, 72 percent of production workers and 65 percent of skilled trades employees voted against the deal.
The contract reportedly includes billions in investment in U.S. plants along with union-sought pay increases and adjusted salary structures.
But key details — particularly regarding the pay tier system and health care changes — weren't disclosed by either the company or the union.
Reports of increased production in Mexico also apparently affected the vote in Sterling Heights.
"All the UAW workers in Metro Detroit are bombarded with rumors of work going to Mexico," plant employee Simon Vuli told the Detroit Free Press.
In Toledo, meanwhile, 87 percent of production workers and 80 percent of skilled trades employees —the largest margins to date — voted against the agreement.
The tentative plan would shift production of the popular Jeep Cherokee from Toledo to Belvidere, Illinois.
Belvidere and another plant in Warren, Michigan, will be the last FCA plants to vote. Even before the latest results, however, the contract's prospects appeared dim. Seven large plants rejected the deal, while only a handful of local chapters supported it.
The Detroit News, meanwhile, reported that UAW officials planned to meet with its FCA local leaders in Warren this week.
The fate of the FCA contract isn't the only problem facing the auto industry this week. The UAW issued a five-day strike notice to Ford and alleged that the company was not bargaining in good faith at its 7,500-worker plant near Kansas City.