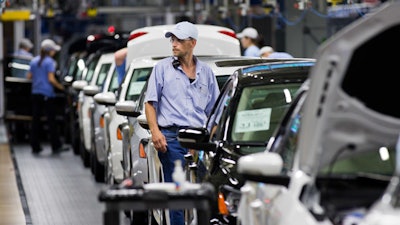 Last week, Ford announced that it was moving production of its all-new 2016 F-650 and F-750 medium-duty trucks from Mexico to an Ohio Assembly Plant starting early next year, with the trucks on sale in spring 2015.
Reportedly, the production shift from Mexico is part of the collective bargaining agreement Ford and the United Auto Workers negotiated in 2011. This win for the UAW comes on the heels of a highly publicized loss in Tennessee, where Volkswagen workers voted against a German-style "works council" at the plant, which would represent both blue and white collar employees on issues such as working conditions and plant efficiency, but not wages or benefits.
In the case of Volkswagen, critics suggested a vote for the UAW would put state-offered incentives in jeopardy. According to United Press International, Tennessee gave Volkswagen more than $500 million to build the Chattanooga plant, which opened in 2011, helping create thousands of good-paying, middle-class jobs locally and generating more than $50 million in new state and local tax revenue a year.
Perhaps the UAW will have better luck with the likes of American-based automakers – like Ford – and in states outside of the traditionally anti-union South. According to Eric Schelzig of the Associated Press, the UAW has failed in its efforts to represent workers at more successful U.S. plants operated by the likes of Honda, Toyota, Nissan, Mercedes and BMW. Today, a Mitsubishi plant in Normal, IL, is the only foreign automaker represented by the UAW, dating back to when it began as a joint venture with Chrysler in 1988.
South Carolina Governor Nikki Haley announced in February that she discourages companies from building new facilities in South Carolina if they are planning to bring a union with them. Said USA Today:
"It's not something we want to see happen," she told the Greenville News following an appearance on Wednesday at an automotive conference here. "We discourage any companies that have unions from wanting to come to South Carolina because we don't want to take the water."
As right-to-work becomes a more significant point in state political discussions, these union wins and losses have a little more impact. Political discourse aside, Examiner.com claims that, despite being the "richest union in the U.S. with a billion dollars in assets as of 2012," that the UAW is facing steep membership declines and is struggling to make up for dues by selling off assets.
The road for the UAW gets bumpier this week, as three anti-union Volkswagen workers have sued the German automaker and the UAW, alleging that they improperly colluded in the run-up to the union election in Tennessee. While UAW president Bob King calls the suit "baseless," this could muddy the waters as the union appeals the VW loss in Chattanooga. In its challenge before the NLRB to the Chattanooga election, the UAW has alleged that politicians and outside groups compromised the process by making anti-union statements in the days before the February 12-14 vote. According to Reuters, UAW is asking federal regulators to scrap the result and hold a new election.
---
You can also follow Anna on Twitter @IndustrialAnna or contact her by email at anna.wells@advantagemedia.com.