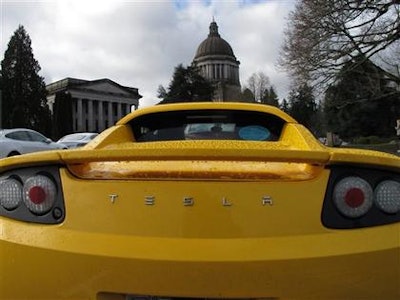 Tesla Motors has always had a bit of a difficult time in getting its vehicles to customers around the country, primarily because of its unique business model. Instead of having the traditional dealership structure, customers can buy vehicles directly from Tesla and have them shipped right to their front door. It's very much a start-up method of doing business, even for a company that is a legitimate player in the U.S. automotive world.
It's made them some enemies with dealers, who want a piece of the pie. And it's made rolling out sale in certain states, like New Jersey, particularly difficult. Tesla and the New Jersey Motor Vehicle Commission (NJMVC) were working together to resolve any issues, but according to a blog post put up on the Tesla corporate site today, that relationship has fallen apart, and as of this afternoon, Tesla is banned from selling vehicles in the state via its own sales model.
Characteristic of his social media-savvy side, Tesla Motors CEO hopped on his Twitter account to make his frustrations known:
New Jersey auto dealers subverting democratic process to try to block Tesla sales http://t.co/PLY97W1oh0

— Elon Musk (@elonmusk) March 11, 2014
And the official Tesla Motors account soon chimed in, targeting more directly the state's governor, Chris Christie:
NJ @GovChristie has gone back on his word. His administration, under pressure from auto dealers, may shut down Tesla in NJ as soon as today.

— Tesla Motors (@TeslaMotors) March 11, 2014
.@GovChristie vowed to let legislative process work, but instead of sticking up for NJ consumers he's fast-tracking anti-Tesla regulation.

— Tesla Motors (@TeslaMotors) March 11, 2014
Dealers want regulation that could ban Tesla from selling cars in NJ IMMEDIATELY, despite having 2 licenses to do so. Bad for innovation.

— Tesla Motors (@TeslaMotors) March 11, 2014
Tesla says in that blog post that New Jersey is directly impeding its growth plan, simply because it has never been sure of the status of its two retail licenses. The company cites a "special interest group," the dealerships that want to sell Tesla's vehicles for them, and called that pressure "an affront to the very concept of a free market."
As someone who has lived mostly in an era where anything can be purchased online and delivered straight to one's doors, the dealership model has always seemed abstract and relatively unnecessary. It's nice to be able to do a test drive when you're looking around for a new car, but beyond that, the dealership brings little value to the equation. For Tesla, it simply makes sense to do business a little differently — buying a Model S just isn't the same as buying one of its competitors.
Tesla says their sales model "is not just a matter of selling more cars and providing optimum consumer choice for Americans, but it is also about educating consumers about the benefits of going electric, which is central to our mission to accelerate the shift to sustainable transportation, a new paradigm in automotive technology."
Why New Jersey would aim to halt the progress of a company that is doing an incredible amount of good work for this country baffles me. Tesla has created thousands of jobs and is promising thousands more in its proposed "gigafactory" for building batteries. It's quickly becoming one of the major American automotive brands. Other automakers are scrambling to compete with the unique combination of sophisticated engineering and gasoline-less driving.
Times change, and so do business models. The old ways of doing business can't be maintained forever. If a company thinks that selling their product one way is the best for their operations, why should they be told they have to do otherwise? If Tesla wants to sell their products directly, why shouldn't they? If they were selling almost any other consumer good, they could reach out to customers in any way they please.
But for Tesla, there's a silver lining in all of this, and it's that the established players think of them as a serious threat. One knows they've arrived when the lobbyists start revving up.
---
Joel Hans is the managing editor of Manufacturing.net. He can be contacted at Joel.Hans@advantagemedia.com or followed on Twitter @Mnet_JoelHans.