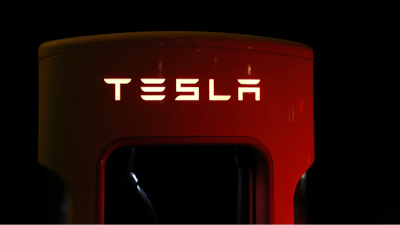 Pixabay
The automotive industry is shifting towards electric vehicles (EV) at a frantic pace. The number of companies entering this highly disruptive sector continues to gain momentum in 2021 and EV stocks were some of the top-performing companies in 2020.
According to a report from the International Energy Agency, the number of EVs sold worldwide rose from 45,000 in 2011 to 3.24 million in 2020. Markets and Markets expect EV deliveries to touch 27 million by 2030, indicating a compound annual growth rate of 21%.
Over the past decade, vehicle manufacturers such as Tesla have managed to increase the number of miles an automobile can run on a single charge and the number of charging stations, as well as lower manufacturing costs driven by economies of scale.
Tesla is the leading EV manufacturer in the world and the company has managed to increase annual sales from just $400 million in 2012 to $31.5 billion in 2020. The company ended 2020 with a market share of 16% in the EV segment. However, there is a good chance that legacy automobile manufacturers are now looking to enter this high-growth market given the multiple secular tailwinds and a rapidly expanding addressable market which might impact Tesla's leadership position in the near future.
Tesla Sold Close to 500,000 Automobiles Last Year
Tesla sold 499,500 vehicles in 2020 and close to 185,000 vehicles in the first quarter of 2021. Its vehicle deliveries more than doubled in the March quarter despite supply chain constraints due to semiconductor chip shortages used in automobiles. Tesla attributed the robust sales to its Model Y EV which it began producing in China in the fourth quarter of 2020.
In 2021, Tesla expects vehicle deliveries to touch 750,000 which suggests it will need to average 188,000 deliveries in each of the four quarters.
EV manufacturers including Tesla have successfully managed to get drivers to transition towards hybrid and fully-electric vehicles over the years. The electric vehicle deliveries grew by 43% in 2020 despite the ongoing pandemic. Now, Bloomberg New Energy expects EVs will account for 10% of the total global passenger vehicle market by 2025 and this figure might touch 58% by 2040.
Rise in Competition
Any high-growth industry attracts multiple players and the EV sector is expectedly heating up. Further, governments of the two largest markets- China and the U.S. are already offering incentives and subsidies to EV manufacturers and buyers.
In the U.S. the Democrats are supporting the acceleration towards clean energy solutions. The Energy Department's Loan Programs Office is once again providing debt capital to vehicle manufacturers to set up a solid infrastructure for this sector. In fact, Joe Biden demonstrated his support earlier this year when the President announced his aim to shift the entire fleet of the government's gas-guzzling vehicles into EVs.
Biden also stated the government will invest heavily in creating a support structure for EVs and deploy around half a million charging stations throughout the U.S. that will accelerate this transition. Ford recently received close to $6 billion in loans from the Loans Program Office. These funds will be used to develop hybrid and EV vehicles.
Several auto manufactures have already announced they will be investing heavily to start the production of all-electric vehicles in the upcoming decade. Last month, Volvo confirmed EVs will account for 100% of its vehicle sales by 2030. Auto giant General Motors estimates to increase its all-EV fleet to 30 models by the end of 2023. It plans to offer only light vehicle EVs by 2035 while Ford now expects to sell only EVs in Europe by the end of this decade.
In March 2021, Volkswagen announced plans to build six battery factories in Europe allowing it to manufacture one million EVs by 2023 and 1.5 million EVs by 2025.
EV Stocks You Need to Watch Out For
While it's quite evident that the electric vehicle segment is all set to explode given the long-term drivers, there are several EV stocks that will benefit from this transition.
As stated, above China is the largest EV market in the world where Tesla is currently the undisputed leader. Electric vehicle sales in the country surpassed the one million figure in 2020 and are forecast to touch 5 million by 2025, 10 million by 2030, and 20 million by 2040.
This rapid growth makes China-based EV stocks including NIO and XPeng exciting propositions. These two companies already account for 7% of the total EV market in China and this figure might rise at an enviable rate given how the Chinese government supports domestic manufacturers.
The Final Takeaway
We can see that Tesla is facing competition from established auto manufacturers as well as new players in the EV segment and this trend is likely to continue. However, the largest EV producer in the world has a visionary CEO in Elon Musk at the helm who has historically pumped in billions of dollars in research and development to deliver a portfolio of path-breaking and technologically advanced vehicles.
Will this strategy help Tesla and Elon Musk to maintain a leadership position in a crowded sector with an increasing number of market participants?