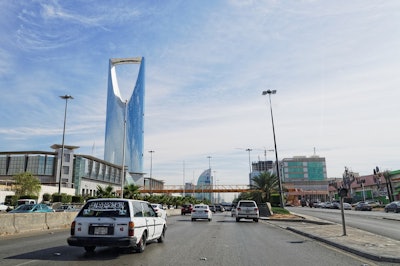 What's your dream car to drive? Saudi women are asking that question after the kingdom announced that females would be granted licenses and be allowed to drive for the first time.
An Arabic Twitter hashtag asking women what car they want to drive already had more than 22,000 responses on Thursday. Some users shared images of black matte luxury SUVs. Others teased with images of metallic candy pink-colored cars. A few shared images of cars encrusted with sparkly crystals.
Car makers see an opportunity to rev up sales in Saudi Arabia when the royal decree comes into effect next June. But any gains are likely to be gradual due to a mix of societal and economic factors. Women who need to get around already have cars driven by chauffeurs. And many women haven't driven in years, meaning the next wave of buyers could be the young.
That didn't keep Ford and Volkswagen from trying to make the most of the moment. They quickly released ads on Twitter congratulating Saudi women on the right to drive. Saudi Arabia had been the only country in the world to still bar women from getting behind the wheel.
American automaker Ford's ad showed only the eyes of a woman in a rearview mirror with the words: "Welcome to the driver's seat." German automaker Volkwagen's ad showed two hands on a steering wheel with intricate henna designs on the fingers with the words: "My turn."
Checking that optimism will be the reality that many women will continue to need the approval of a man to buy a car or take on new responsibilities.
"The family has always operated on the basis of dependency so that's a big core restructuring of the family unit," said Madeha Alajroush, who took part in Saudi Arabia's first campaign to push for the right to drive. In that 1990 protest, 47 women were arrested. They faced stigmatization, lost their jobs and were barred from traveling abroad for a year.
"I had no idea it was going to take like 27 years, but anyway, we need to celebrate," Alajroush said.
That won't entail buying a new car, though. She hasn't driven in nearly 30 years, she says, and her two daughters still need to learn how to operate a vehicle.
Allowing women the right to drive is seen as a major milestone for women's rights in Saudi Arabia, but also for the Saudi economy. The kingdom's young and powerful crown prince is behind a wide-reaching plan to transform the country and wean it off its reliance on government spending from oil exports.
Allowing women to drive helps to ensure stronger female participation in the workforce and boosts household incomes. It can also save women the money they now spend on drivers and transportation.
The Saudi government says there are 1.37 million drivers in the country, with the majority from South Asian countries working as drivers for Saudi women. The drivers earn an average monthly salary of around $400, but the costs of having a driver are much higher. Families must also pay for their entry permits, residence permits, accommodation, flight tickets and recruitment.
Rebecca Lindland, an analyst for Cox Automotive in the U.S. who has studied the Saudi Arabian market, said families with the means likely already have enough vehicles because women are already being transported in them, with male drivers. Those women could simply start driving the vehicles they already own.
There are also many Saudi families who do not have the money to buy new cars.
"The idea that 15 million women are going to go out and buy a car is not realistic," Lindland said. "We may not have incremental sales because those that are already with more freedoms already probably have access to a car."
The industry consulting firm LMC Automotive sees only a small boost in sales next year due to the royal decree, coinciding with a small recovery in sales from a slump.
The Saudi market peaked at 685,000 new vehicles sold in 2015, falling to under 600,000 in 2016, and is forecast to finish this year at 530,000. LMC had predicted a modest recovery next year based on an improved economy and sees a little added boost from women drivers.
Although Saudi Arabia has a reputation for liking luxury goods, mainstream brands dominate the car market with a 93 percent share of sales, according to LMC. Hyundai was the top passenger car brand with a 28.6 percent share of the market, followed closely by Toyota at 28.4 percent and Kia at 8.3 percent, the company said.
There are also societal factors to consider. Even if the law allows women to drive, many will still need their fathers or husbands to buy a car.
A male guardianship system in Saudi Arabia gives men final say over women's lives, from their ability to travel abroad to marriage. Women often are asked to have the written permission of man to rent an apartment, buy a car or open a bank account.
"If you don't have credit, if you don't have money, your male guardian will be the one to decide whether you buy a car or not," Lindland said.
While car sales might rise in the long-term, ride hailing apps like Uber and local rival Careem could see revenues decline. Female passengers make up the majority of the country's ride-hailing customers.
To celebrate Tuesday's decree, several Saudi women posted images on social media deleting their ride sharing apps.
The two companies, however, have seen strong investments from Saudi Arabia. Last year, the Saudi government's sovereign wealth fund invested $3.5 billion in Uber. This year, an investment firm chaired by billionaire Saudi Prince Alwaleed bin Talal invested $62 million in Dubai-based Careem.
Alajroush says the right to drive will not immediately change women's lives, but it will change family dynamics at home and will change the economy.
"Men used to leave work to pick up the kids. The whole country was paralyzed," she said. "It's a restructuring of how we think, how we operate, how we move."
(Source: Associated Press)