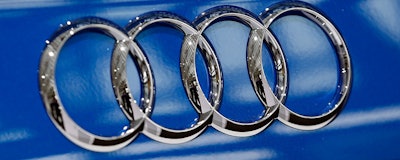 German prosecutors say they have conducted further searches at two locations and had one person taken into custody in connection with their investigation into alleged manipulation of diesel emissions in Audi cars sold in the United States.
Prosecutors in Munich who are conducting the investigation confirmed Thursday that the searches and arrest were carried out Wednesday.
In March, prosecutors said they were investigating possible fraud and illegal advertising relating to the sale of 80,000 vehicles with 3.0 liter diesel engines. The cars were equipped with software that turned emissions controls on when the vehicles were being tested in labs and off during every day driving. Prosecutors said at the time they had searched offices of Audi, which is headquartered in the German city of Ingolstadt, and seven other locations.
The Audi probe is part of a large scandal that engulfed Wolfsburg-based Volkswagen, Audi's parent company. In all, Volkswagen has agreed to pay more than $20 billion in civil and criminal penalties and settlements that included Volkswagen-brand cars also equipped with such software.
In July, U.S. authorities brought criminal charges against former Audi engineer Giovanni Pamio. The complaint against him alleged that he directed other employees to design the software that cheated on U.S. emissions tests, and that he and others failed to disclose the software and knowingly misrepresented that the engines complied with pollution standards. Pamio was among eight ex-VW employees charged in the scandal.
(Source and Image Credit: Associated Press)