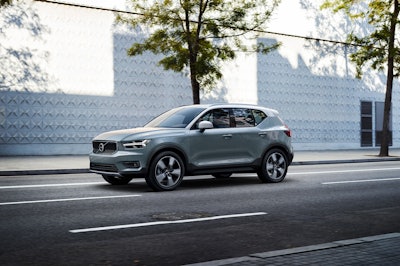 Even before the first vehicle rolls off the line at Volvo Cars' new factory in South Carolina, the Swedish automaker has nearly doubled its investment to $1 billion and promised to build a second vehicle at the site.
Volvo says it will spend an additional $520 million and add nearly 2,000 more jobs to its plant under construction in Berkeley County just off Interstate 26 about 30 miles (50 kilometers) northwest of the port in Charleston.
Volvo announced two years ago it would build its brand new S60 sedan at the factory. Monday's announcement doubled the number of jobs at the plant to nearly 4,000 and pushed Volvo's investment in the state to more than $1 billion, South Carolina Gov. Henry McMaster said.
Starting in 2021 , the second line will make what Volvo Cars of North America President Lex Kerssemakers called the company's flagship SUV, the revamped, hybrid XC90.
"We are very proud we've announced the second car. We still have a journey to do with the first car. But the route is fixed, the route is paved," Kerssemakers said.
Volvo, which has been owned by Chinese automaker Geely since 2010, will also add about 300 jobs with sales offices, a training facility and research and development center at the Berkeley County site, Kerssemakers said.
Once its first U.S. plant is fully operational, Volvo hopes to make 150,000 vehicles per year, Kerssemakers said.
South Carolina gave Volvo more than $200 million in incentives and agreed to build a new interchange on I-26 for the plant when it beat several other states to land the site in 2015. For its expansion, South Carolina officials plan to ask for $46 million in bonds for the company and further incentives are being negotiated, but aren't being made public at this time, Commerce Department spokeswoman Adrienne Fairwell said.
Volvo is the third major vehicle maker to come to South Carolina. BMW has been making cars in the Upstate for almost 25 years and is expanding to nearly 10,000 workers in the next few years, while Daimler AG plans to build its Sprinter vans at a plant under construction near Interstate 26 in Ladson between the new Volvo plant and the port.
No other state can claim such a diverse set of vehicle makers — which now includes Boeing aircraft in North Charleston — as South Carolina continues to pivot from textiles to other manufacturing more likely to stay in the United States and create hundreds of other jobs in components and parts, state Commerce Secretary Bobby Hitt said.
"Twenty-five years ago, we made gray cloth," Hitt said. "Today we make remarkable products that roll on the ground and fly in the air."