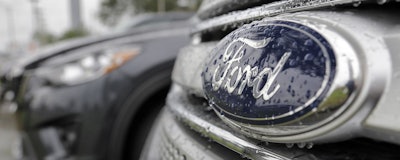 Ford has recalled 1.38 million cars in North America on Wednesday for a steering wheel bolt issue, according to USA Today.
Steering wheel bolts that were improperly affixed could be loose and could lead to the steering wheel detaching from the steering column, Ford said. The recall covers the 2014 through 2018 Ford Fusion and Lincoln MKZ models.
"In affected vehicles, the steering wheel bolt may not maintain torque, allowing the bolt to loosen over time, and if not serviced, a steering wheel could potentially detach and lead to a loss of steering control and increased risk of a crash," Ford wrote in a press release.
The affected vehicles were built at the Hermosillo Assembly plant in Mexico from July 25, 2013 to March 5, 2018 and at the Flat Rock Assembly plant in Flat Rock, Mich. from Aug. 6, 2013 to Feb. 29, 2016. Two accidents with one injury have been reported in connection with the steering wheel bolts.
The company will replace the steering wheel bolt for free, swapping it out for "a longer bolt with more robust thread engagement and larger nylon patch placed properly for proper torque retention," Ford said. In total 1.3 million vehicles in the United States are affected, as well as about 62,000 vehicles in Canada and about 14,000 vehicles in Mexico.
A second recall announced on Wednesday affects about 6,000 vehicles: the 2013-16 Ford Focus cars with 1.0-liter Fox GTDI engine and B6 manual transmission and 2013-15 Ford Fusions with 1.6-liter GTDI engine and B6 manual transmission have a potential for clutch plate fracture with risk of fire. While no fires, accidents, or injuries have been reported so far, Ford found that premature clutch lining wear might lead to a cracked pressure plate, which could potentially allow transmission fluid to leak and catch fire.
Fusion owners may bring their cars to Ford to have the clutch assembly replaced, while Focus owners will receive a software patch which will prevent prolonged clutch slip and alert the owner if a replacement is needed.