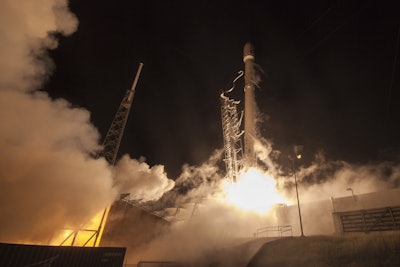 SpaceX is scheduled to make its fourth attempt to land a rocket off the Florida coast this week, but the company isn't optimistic about its chances.
SpaceX's Falcon 9 rocket will launch a communications satellite into orbit from Cape Canaveral Air Force Station during a 90-minute window on Wednesday evening, with a backup window scheduled roughly 24 hours later.

Following the launch, the rocket's initial stage will again attempt to land on a drone ship at sea.
But because the launch of the satellite for communications provider SES was delayed by months — in part due to a June Falcon 9 explosion — SpaceX changed the flight pattern to reach orbit more quickly.

Due to the unique pattern, the company said in a statement that "a successful landing is not expected."

In December, SpaceX successfully landed a Falcon 9 rocket on land at Cape Canaveral, but its previous three shots at more complicated ocean-borne landings ended in near-misses last month, in April and last January.

Landing used rockets safely on the ground would sharply reduce the costs of spaceflight and is considered a crucial step in SpaceX CEO Elon Musk's goal of getting humans to Mars.