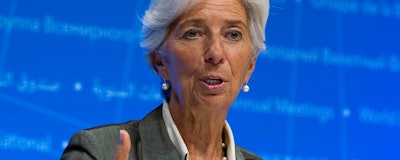 WASHINGTON (AP) — The International Monetary Fund upgrading its outlook for the world economy, noting surprisingly strong growth in Europe and Asia and predicting that U.S. tax cuts will give the American economy a short-term boost.
The IMF on Monday forecast global growth of 3.7 percent for 2017, which would be the most substantial annual growth since 2011, and to 3.9 percent for this year and 2019.
"Global growth has been accelerating since 2016, and all signs point to a continuous strengthening of that growth," IMF managing director Christine Lagarde said in a press conference at the World Economic Forum's annual meeting in Davos, Switzerland. "This is very welcome news."
The international lending agency says 120 countries, representing three-quarters of world economic output, enjoyed economic growth in 2017, creating the broadest global expansion in seven years. World trade is expanding, and consumers are more confident.
The IMF expects the U.S. growth to accelerate to 2.7 percent this year, from 2.3 percent in 2017, citing increased investment as businesses take advantage of lower corporate tax rates.
The 19 countries that use the euro currency collectively grew 2.4 percent in 2017, best since 2007, and will grow 2.2 percent this year, the IMF said.
The Chinese economy, the world's second-biggest, is believed to have grown 6.8 percent in 2017. But China's growth is forecast to slow to 6.6 percent this year and 6.4 percent in 2019. Beijing is attempting to move the economy away from fast but unsustainable growth based on massive investment to slower, steadier growth built around consumer spending.
The IMF warned that a long period of low global interest rates may have inflated the prices of assets such as stocks, raising the threat of a correction that could hurt confidence and growth.
Lagarde urged countries to take advantage of healthy growth to enact reforms that will make their economies more efficient to spread prosperity to those who have been left behind. "Complacency is actually one of the risks should guard against," she said.