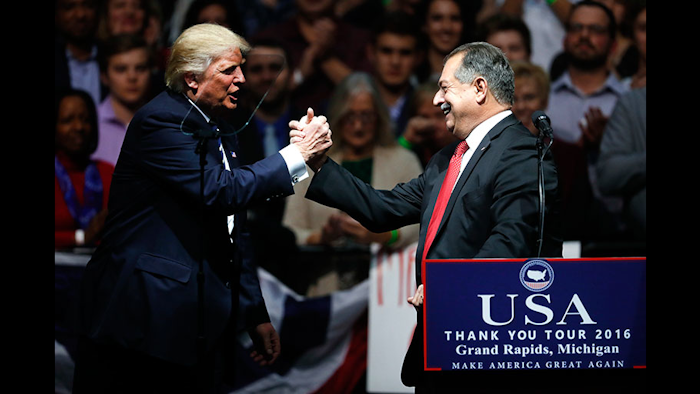 The head of one of the nation's top chemical producers will help dictate federal policy toward all manufacturers in the forthcoming Trump administration.
Dow Chemical CEO Andrew Liveris joined the president-elect at a rally last week in Grand Rapids, MI — not far from Dow's headquarters in Midland — where Trump told the audience that Liveris would lead the American Manufacturing Council.
The panel — whose role and membership are expected to be announced soon — will advise the Commerce Department on manufacturing issues.
"We're going to put you all to work," Liveris said at the rally, according to The Wall Street Journal. "We've got ideas and we've got plans."
Liveris, 62, plans to step down as Dow's chief executive next year after the company merges with rival DuPont. He is expected to stay on as executive chairman of the newly merged company and help guide its split into three separate, publicly traded companies within two years.
Liveris also announced at the rally that Dow plans to open a new innovation center in Michigan. The facility is expected to shift 100 overseas Dow jobs back to its home state and create 100 new positions.
The Journal, however, noted that restructuring efforts announced by Dow over the past two years would amount to thousands of job cuts.