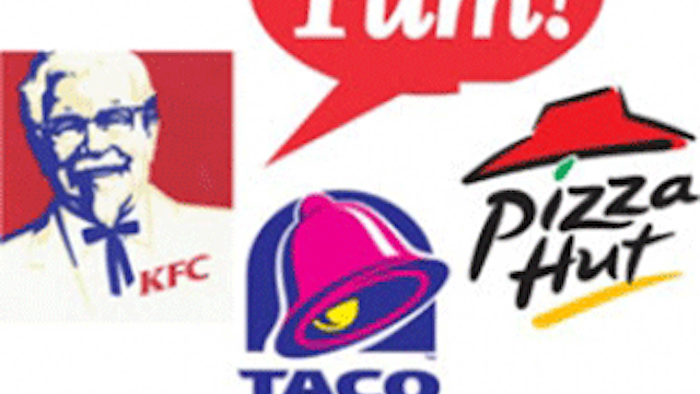 LOUISVILLE, Ky. (AP) — Shares of Yum Brand plunged in late trading Tuesday after the owner of KFC, Pizza Hut and Taco Bell cut its profit outlook for the year, citing a slower-than-expected comeback for its key China division.
The company said it now expects full-year earnings per share to rise in the low-single-digit percentages. It had previously forecast growth of at least 10 percent for the year, based on expectations at the time for a strong recovery by its stores in China, which have been hit by scares over food quality.
In the latest quarter, however, the company said sales in China rose just 2 percent at established locations, reflecting a 3 percent increase at KFC and 1 percent decline at Pizza Hut. For the full year, the company said it expects China's overall sales at established locations to be negative. Yum, based in Louisville, Kentucky, has been trying to win back customers after negative publicity stemming from food supply controversies. In the year-ago quarter, sales in China fell 14 percent at established locations.
Jonathan Blum, chief public affairs officer for Yum Brands Inc., attributed the performance in China to a mix of external factors, such as the Chinese economy, as well as internal issues, such as the execution of marketing for Pizza Hut. He declined to provide further details ahead of Yum's analyst conference call scheduled for Wednesday morning.
In the U.S., Blum said Taco Bell and KFC saw positive sales gains, while Pizza Hut remained relatively flat.
For the quarter ended Sept. 5, the company said it earned $421 million, or 95 cents per share. Not including one-time items, it earned $1 per share. Analysts on average expected $1.07 per share, according to analysts surveyed by Zacks Investment Research.
Total revenue was $3.43 billion in the period, also missing Street forecasts for $3.68 billion.
Shares of Yum were down more than 16 percent at $83.42 in after-hours trading.