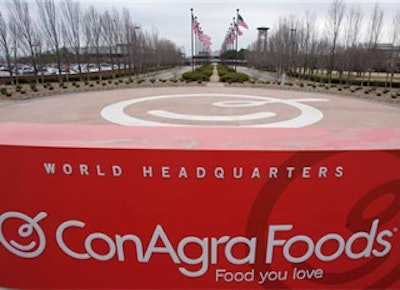 OMAHA, Neb. (AP) — ConAgra Foods Inc. said Tuesday that it has completed its roughly $5 billion acquisition of private-label food maker Ralcorp Holdings Inc.
The company announced in November that it would buy Ralcorp in a deal that makes it the nation's biggest producer of store-brand foods.
ConAgra, which sells brands like Chef Boyardee and Marie Callender's, paid $90 per share cash for Ralcorp's common stock. The closing of the deal follows approval of the acquisition by Ralcorp's shareholders and the receipt of all required regulatory approvals.
The company said it will have estimates on the financial impact of the deal during a presentation at the Consumer Analyst Group of New York in February.
ConAgra Foods will continue to be headquartered in Omaha, Neb., and led by CEO Gary Rodkin. Kevin Hunt, former CEO of Ralcorp, will be a consultant to ConAgra Foods for the next year.
ConAgra shares fell 8 cents to close at $32.30.