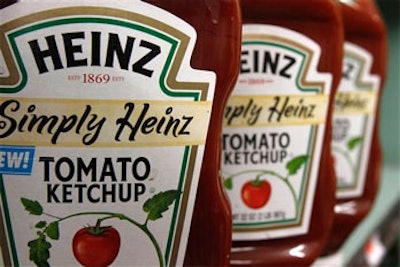 WASHINGTON (AP) — U.S. federal regulators have alleged that a brokerage account in Switzerland was used for illegal insider trading ahead of the H.J. Heinz acquisition.
The Securities and Exchange Commission obtained a court order Friday to freeze the account and prevent the assets from being moved.
The account was used for trades placed Wednesday that netted $1.7 million after the deal was announced. The SEC says it doesn't know the identity of the traders but said they "took risky bets" that Heinz's stock price would increase.
On Thursday, Warren Buffett's Berkshire Hathaway and the Brazilian firm 3G announced they agreed to buy Heinz. Heinz's stock rose nearly 20 percent after the announcement.
The SEC is alleging that the traders must have known in advance about the pending transaction based on inside information. The traders bought call options to make a huge profit of roughly 1,700 percent after the acquisition was announced.
Call options let investors place a bet on a stock without committing to buy the shares. Investors instead have the option to buy the shares later for a set price.
The Swiss account hadn't traded securities related to Heinz for nearly six months before purchasing the options, the SEC said in a complaint filed in federal court in New York.
"Irregular and highly suspicious options trading immediately in front of a merger or acquisition announcement is a serious red flag that traders may be improperly acting on confidential nonpublic information," Daniel Hawke, an SEC official, said in a statement.
Representatives for Berkshire Hathaway and the public relations agency representing 3G and Berkshire in the deal did not immediately return messages for comment. A spokesman for Heinz said the company hadn't been contacted by the SEC and therefore did not have any comment.
The SEC's complaint does not allege any wrongdoing by Heinz or the company's new owners.
The account was held at a subsidiary of Goldman Sachs in Zurich. Tiffany Galvin, a spokeswoman at Goldman, said the company is "cooperating with the SEC's investigation."
Heinz has long been a subject of takeover speculation. 3G is best known for its acquisition of Burger King and its role in the deal that created Anheuser-Busch InBev, the world's biggest beer maker. 3G is owned by Jorge Lemann, one of Brazil's richest men.
The acquisition is intended to help Heinz accelerate its expansion from a dominant American name into a presence on grocery shelves worldwide. In addition to ketchup, the Pittsburgh-based company also makes baked beans, pickles, vinegar, Classico pasta sauces and Ore-Ida potatoes, as well as a growing stable of sauces suited to regional tastes around the world.
___
AP Food Industry Writer Candice Choi contributed to this report from New York.