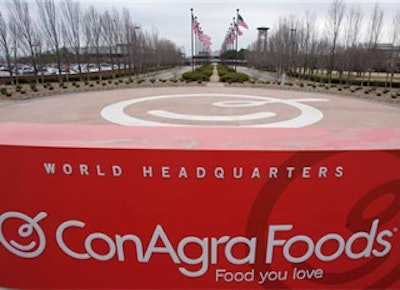 NEW YORK (AP) — ConAgra Foods reported a third-quarter profit that fell shy of Wall Street expectations as the maker of Chef Boyardee and Hebrew National hot dogs booked charges related to its acquisition of Ralcorp and struggled to grow sales for its existing brands.
The Omaha, Neb.-based company had announced last year that it was buying Ralcorp Holdings, which makes crackers, pretzels and other store-brand foods for retailers such as CostCo, Kroger and Whole Foods. ConAgra noted at the time that such products are gaining popularity in the U.S. as supermarkets and drug store chains improve their offerings as a way to cultivate shopper loyalty.
The deal, which closed on Jan. 29, made ConAgra the nation's biggest producer of store brands.
For the quarter, ConAgra said sales rose 7 percent in its consumer foods segment as a result of acquisitions and a more favorable mix of prices and packages. Sales volume for existing brands declined 3 percent from a year ago, but the company noted the figure has been improving sequentially and is expected to continue doing so in coming quarters. It noted that it's significantly stepping up its marketing spending.
The company's other brands include Hunt's ketchup, Slim Jim and Marie Callender's frozen meals.
In the commercial food segment, which provides goods to restaurant chains and other outlets, sales rose 1 percent. The company noted that its Lamb Weston potato unit benefited from higher prices, which offset a volume decline that resulted primarily from softness in Asian markets.
For the three months ended Feb. 24, ConAgra Foods Inc. said it earned $120 million, or 29 cents. That's down from $280.1 million, or 67 cents per share, in the year-ago period.
Not including one-time items, the company said it earned 55 cents per share. Analysts on average expected a profit of 56 cents per share.
Revenue rose 13 percent to $3.85 billion, which was also shy of the $3.9 billion that Wall Street expected.
ConAgra stood by its full-year guidance of adjusted net income of $2.15 per share, representing a 17 percent increase from the previous year. The forecast includes a 5-cents-per-share benefit from its acquisition of Ralcorp. Next year, the company expects a 25-cents-per-share benefit from the acquisition.
Analysts expect annual earnings per share of $2.16.
The board also declared a regular quarterly dividend of 25 cents per share, payable May 31 to shareholders of record April 30.
In morning trading, ConAgra shares fell 15 cents to $35.39.