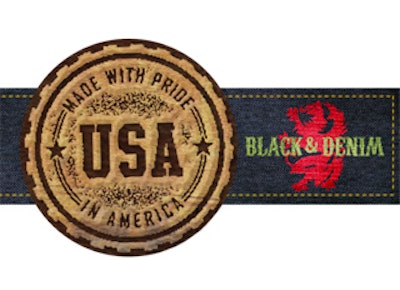 While Kickstarter has launched hundreds of products since its inception in 2009, few of them have been so centrally focused in reviving a once-staple of American manufacturing as Black & Denim. The company, based out of Tampa, Florida and incorporated in 2008, is working its way into what has long been deemed a dead American industry — apparel — through a uniquely 21st Century business plan. Think James Dean-era style, meets Kickstarter, meets American-made denim. And along the way, they want to do their part in helping the few textile manufacturers that remain here in America.
Black & Denim, as a brand, is trademark American. According to Roberto Torres, one of the three co-founders, its primary influences from 1950s and 1960s-era workman's clothes, with a dash of military and blue-collar uniforms. He mentions the likes of James Dean and Marlon Brando — two ultra-cool celebrities who ushered denim into the standard outfit for American men. And the company takes a good deal of inspiration from the famous bourbon companies — Maker's Mark and Jack Daniels — as "blue collar, attached to its roots, with simple, functional, great design."
But perhaps more importantly is the connection to American-made quality. Torres explains that as a child in Panama, his family often went out of their way to purchase American-made goods. The additional quality found there was absolutely worth the additional cost. In building up Black & Denim, Torres wanted to combine this memory of high-quality American goods with that design aesthetic. There was never any question among him or his peers — designer Chris Findeisen and IT guru Luis Montanez — that their products needed to be made in America.
The only problem was that the American apparel industry had fallen apart.
The death of textiles
Apparel manufacturing in America has undergone drastic, painful change. In 1960, 95 percent of the apparel sold in America was also made here, and that supported countless jobs along the supply chain as well. People needed to grow cotton, and others needed to work it into raw denim that could be cut and transformed into clothes. And Torres says back then, the quality of a given pair of jeans, for example, was astounding compared to what we're familiar with today. A single pair could last for years, even for those in rough-and-tumble jobs.
By 1998, the portion of American-made clothing had dropped to 50 percent. There are a multitude of reasons for why this happened, but most of it can be attributed to outsourcing, or the desire to find a better cost scenario. Take Levi's, for example — the company experienced explosive growth during the early 20th Century, and, in particular, during World War II. In the 1990s, however, amid stiffer competition from abroad, the company began to close U.S. plants and negotiate better offshore contract manufacturing deals. In 2009, they boxed up the last of their North American operations.
And in the early years of Black & Denim, Torres and his associates saw that decline as well. Some of the first apparel trade shows they attended were in Las Vegas' biggest expo centers, typically reserved for the likes of the Consumer Electronics Show. Once the Great Recession hit in 2008, the number of those participating in the industry declined precipitously, forcing once-great trade shows into venues one-eighth their old size. On top of that, Torres saw the number of local apparel suppliers and manufacturers — between those who sell cotton, processors, and denim cutters — dropped by half every six months.
That decline, combined with the Great Recession, meant that in 2011, that portion of American-made apparel had dropped to a dismal three percent. That decline was one of the many catalysts for Black & Denim, and its ultimate goal of creating good apparel-based jobs here in America. Torres asks, "How is it that everybody in the world understands that we're No. 1 at building stuff, but all of a sudden, our capability to study craftsmanship completely disappeared?"
Thus began the general business plan for Torres and his associates. They would try to use that recession in apparel manufacturing as a handhold into launching their own business. Torres says that because major contract apparel manufacturers were desperately looking for new work, Black & Denim could "pick and choose" who they wanted to work with. They shied away from those who were just seeking a paycheck, if only because they wanted each pair "to speak to craftsmanship."
'Everything has to be right the first time'
When Torres moved to the U.S., he studied accounting and finance at Florida State and became an auditor. During those first few years on the job, he became acutely averse to debt of any kind — he doesn't want to build Black & Denim through any of the traditional means of gaining capital. And those range, typically, from borrowing from friends and family, maxing out credit cards, taking out hefty bank loans, or seeking out angel investors eager to buy a chunk of equity away from under their noses.
Torres says none of those were appealing to Black & Denim. "I don't believe in debt," he says. Instead, he wanted to build the company from the inside-out. It's a model he calls "inner" or "organic" growth, which meant taking a $1,500 self-investment — split between the three founders — and making a profit off of T-shirts before moving into new arenas, such as selvedge jeans.
The next step of that organic growth is heavily based upon new technologies that didn't even exist five years ago, when the company was incorporated. The newest efforts have focused on a Kickstarter campaign, which ends March 20, where would-be customers can pledge as little as $75 for a pair of selvedge, American-made jeans, and less for a variety of other goods, like T-shirts and polo shirts. To Torres, Kickstarter is a completely new way of doing business — one that precisely eliminates all the debt-based means of traditional fundraising. It's exactly the kind of organic growth he had his partners had been looking for.
But Kickstarter isn't the only 21st Century technological development that Black & Denim is using to its benefit. Last November, Torres and his associates stumbled on Maker's Row, which bills itself as "providing unparalleled access to industry-specific factories and suppliers across the United States." Essentially, the company hopes to become a technology-enabled chain between designers and the manufacturers who will help make their product into reality. Torres says, "The minute [Maker's Row] came our way, it was just night and day."
The people at Maker's Row helped find contract manufacturers necessary to make the high-quality selvedge denim they had promised via Kickstarter. Torres himself was astounded at how easily he was able to find a contract manufacturer in Orlando, an hour north of Black & Denim operations, who could make the labels for their jeans. He says, "They were here the whole time, but we never knew about them." And all their cotton is now sourced from Georgia, after Torres and his associates were turned away from big Texas suppliers who required up-front payments of $250,000 just to get in the front door. Essentially, Maker's Row help Black & Denim find the types of local contract manufactures who could do exactly the kind of work necessary to make the brand work.
The advent of technology, according to Torres, is "bridging the gap between your idea and how to execute it." Today, it's remarkably easy for a designer or engineer to dream something up, develop some prototypes, and then jump right into production thanks to funding via Kickstarter. Add in some help from Maker's Row, and there really are no barriers between a new idea and an American manufacturer eager to help make it a reality.
Torres says that the Kickstarter customer is also an ideal one, because it does take a hefty amount of confidence in a person, and desire for a product, to donate to a cause without a complete guarantee that the end product will be everything that's been promised. But when that does come through, the Kickstarter customer has a different perspective on the transaction — they feel like they're a part of the brand, and will do more to ensure its future survival.
Now the Kickstarter campaign has been fully funded, with 285 backers, Torres and his associates can start working their way toward what's been the real goal all alone: to do their part in rebuilding the American apparel industry.
The future of Black & Denim
Torres clearly has big dreams for his company, and the next step will be establishing a manufacturing base in Tampa. And when he talks about the city, it's clear that he wants to do his part in providing good jobs for the people there. He says, "The heritage of the city is built on cigars. There's one part called Ybor City, which, at one point, had almost 200 factories pumping out cigars. When the business went to Cuba, all of them were wiped out. Some of the buildings were demolished, but there are about 28 buildings left."
Someday, Black & Denim might occupy one of those once-abandoned factories. According to Torres, they're perfect for a small-scale apparel manufacturer, particularly since many had previously been converted into textile and apparel production lines, which means there is still sewing equipment in the old tobacco curing vaults. Torres says, "They're just waiting for someone to dust them off and put them to work again. We are really excited by the premise that we'll be able to do that. It's like discovering history and repeating itself."
It's a grand future for a company that began with a one-time investment of $1,500 from the three co-founders. But to Torres, the desire to rebuild even a fraction of the previous American manufacturing prowess is enough to drive him and the company forward.
He says, "We wanted to make sure it was 100 percent U.S.-made to justify not only the cost, but to explain to people that this is the way these were built fifty years ago. A lot of people say that times were better then — that's up for debate — but we really do believe things were better built back then. To us, it was about trying to understand how it is that we can reconnect consumers with that American idea of design, craftsmanship, functionality and practicality."
---
Further reading:
Black & Denim: http://www.kickstarter.com/projects/2146408518/black-and-denim-american-made-jeans-and-apparel-fr
Maker's Row: http://makersrow.com/