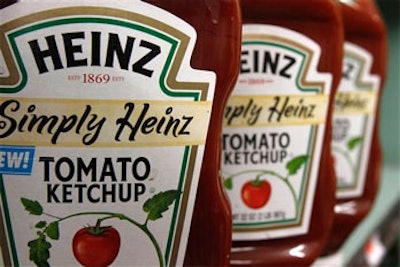 NEW YORK (AP) — Heinz is one step closer to going private.
The Pittsburgh-based ketchup maker said Tuesday that shareholders overwhelmingly approved its acquisition by Warren Buffett's Berkshire Hathaway and 3G Capital, the investment firm that also owns Burger King.
The firms have said that Berkshire is acting as a financing partner while 3G, which is known for its aggressive cost-cutting, will run the company. In addition to condiments, H.J. Heinz Co. also makes baked beans, vinegar and Classico pasta sauce, as well as a variety of products overseas.
The $23 billion deal, which is the biggest ever in the food industry, is still subject to regulatory approvals. But big changes are already underway.
Earlier this month, Heinz announced that Bernardo Hees, a 3G partner and Burger King's CEO, would take over the top job once the acquisition is complete.
Hees had been installed as Burger King's CEO after 3G bought the fast-food chain in late 2010. Since then, he has reduced positions at the corporate headquarters in Miami and sold back more restaurants to franchisees to reduce overhead costs.
Hees will take over for William Johnson, who has been CEO for the past 15 years. Johnson's contract entitles him to walk away with a total of $212.7 million. That includes $99.7 million in vested stock and $57 million in deferred compensation benefits he accrued over his 30 years at the company.
Heinz said it expects the deal to close in the second or third quarter.
The company's stock fell a penny to $72.44 in morning trading.