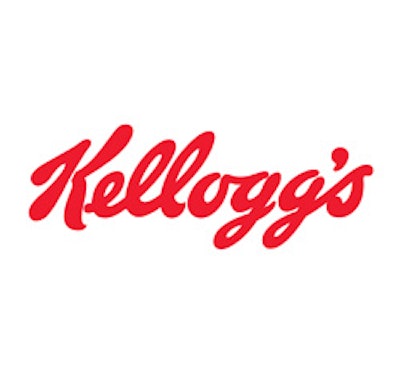 BATTLE CREEK, Michigan (AP) — Kellogg's first-quarter net income slid 11 percent on higher expenses and acquisition costs.
The Battle Creek, Mich., company announced a $1 billion stock repurchase program Thursday, but shares slipped in premarket trading.
Kellogg — whose brands include Eggo, Keebler, Frosted Flakes and others — earned $311 million, or 85 cents per share, for the period ended March 30. That's down from $351 million, or 98 cents per share, a year earlier.
Excluding the costs related to its acquisition of Pringles, earnings were 99 cents per share. Taking out 3 cents per share for the Venezuelan currency devaluation, earnings were $1.02 per share, which was in line with the expectations of analysts polled by FactSet.
Revenue rose 12 percent to $3.86 billion on improved sales, but fell short of the $3.94 billion that Wall Street predicted.
Selling, general and administrative expense increased to $890 million from $826 million, while interest expense climbed to $60 million from $33 million.
Shares fell 81 cents to $63.80 before the market open.
Kellogg Co. has long been known for its breakfast foods. But with cereal sales struggling in North America, the company has been working to diversify its portfolio and expand overseas. Last year, it bought Pringles chips to make a big move into the salty snack market. Two-thirds of the chips' revenue also comes from overseas, which gave Kellogg better reach in countries where it's looking to expand.
Sales in North America increased 8.1 percent in the quarter. Internationally, the biggest sales gain came from Europe, up 28.7 percent. Latin American sales rose 13.7 percent, while sales in the Asia Pacific region climbed 14.7 percent.
Kellogg maintained its full-year adjusted earnings and revenue forecasts. The company still foresees earnings between $3.82 and $3.91 per share, excluding Pringles acquisition-related costs. Revenue is still anticipated to climb about 7 percent. Based on 2012's revenue of $14.2 billion, this implies $15.2 billion.
Analysts expect earnings of $3.87 per share on revenue of $15.26 billion.
Kellogg said that its $1 billion buyback will help it repurchase shares to offset the impact of proceeds from the exercise of options through the end of the year and to start its 2014 purchase plan. The buyback expires in April 2014.